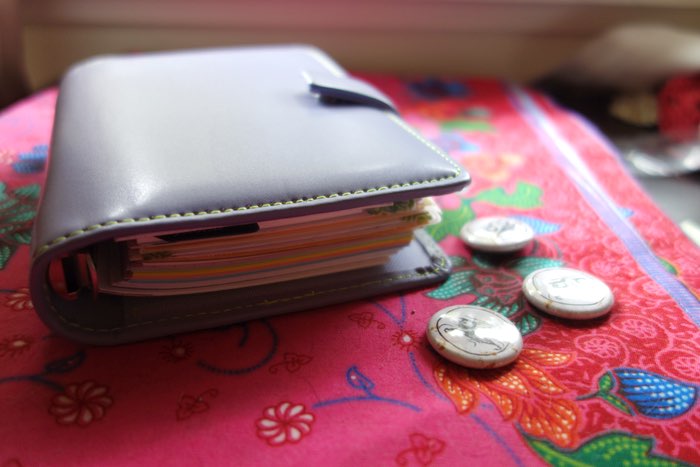 This little Filofax Pocket Metropol planner has been super useful in keeping track of teacup days. I've enjoyed ripping pages out as the weeks pass - a feeling that gets only more satisfying as we get closer to 100. :)
So, set 4.
Day 61: Envelope cutout. If you've ever made a zine, you'll be familiar with the happy feeling of finding a cute pattern inside of boring official envelopes. Ah, joy in mundane things.
Day 62: Tea with cream. Fighting winter skin with Michael's Olivara Skin Cream. This makes it look like I'm conscientious about self-care, but that's a lie. My skin is scaly and crinkly, but I remembered to moisturise that day and celebrated with a teacup.
Day 63: Family crest. I stuffed up the Latin and had to fix it.
Day 64: Teacups in the paper. I wonder if the people in this picture will ever see the tea I served them.
Day 65: Etchings in white-out on adzuki beans.
Day 66: Wire skeleton, acrylic sinew. The paint was still wet the next day.
Day 67: Fuzzy lines.
Day 68: Brush strokes. Acrylic on a very small canvas.
Day 69: Watercolour practice. Terrible perspective and brush control, but it was fun to try painting a 'fine' pattern with watercolours. Something to try again later.
Day 70: Watercolour crap in a cup. My fingers itch now to paint some postcards. Maybe on proper watercolour paper instead of getting them printed, so they're extra special. :)
Day 71: Triptych in colour. Piece from day 49, coloured with acrylics.
Day 72: Painted clay egg. After this photo was taken, one of the cats claimed it and now I don't know where it is.
Day 73: Teacup topiary. In my new colouring book. Ahh~ such relax.
Day 74: PVA glue. I thought this would turn out more like a decal, but it's just a slightly gummy piece of PVA. Maybe a viable medium for a bigger, more intricate piece?
Day 75: Whiteout on plastic. I bought stationery from Char's Planner Goodies, and it arrived in recycled packaging. I don't mean new store-bought stationery made from recycled materials - I mean Char had taken packing materials from around the house and used them to package my stuff. I love that. :) Yay, recycling!
Day 76: Ink on wood. This is an off-cut of American rock maple from a woodwork project at Perth Wood School. We went to learn how to make pigeonhole shelves. It's nice being surrounded by people working on projects they're passionate about, while you're working on yours.
Day 77: Ink on a petal. Camellias are blooming in our garden. :)
Day 78: Tealeaf teacup. This is peppermint tea, so it should actually be called a 'tisane' or herbal 'infusion'.
Day 79: Teacup on a punchie. I bought a flower-shaped hole punch. It's surprisingly sturdy and crisp, and works on firm paper too.
Day 80: Shortbread and teacup. I used to be able to stuff my face with shortbread, but now after learning how to make it, every mouthful is guilt. Tasty, tasty guilt. Spoiler alert - you are pretty much eating butter and sugar, stiffened by white flour. Out of a batch of 16, I ate 3, so that's not too bad.
And here we are - the home stretch.
The point of quitting full-time work was to get my life in order and accomplish things I'm passionate about, but lately, I've wondered if I have the balls for it. I decided for 100 days, teacups would be the thing I hope to accomplish, but it's been 50/50 lately on teacups that slot into my life versus teacups I stop and make time for. To succeed at the things that matter to you, you have to stop and make time for them.
I see friends starting businesses, writing books, making stationery, throwing everything they have at their goals and realising success. I feel tiny by comparison. Not that I believe in comparison. More I envy their passion and focus. Or maybe I'm letting the hyperbolic lens of social media distort the view from here.
Everyone has their main quest, and I know mine isn't to run a business, write books or make stationery. I have to consciously remind myself every day not be swayed by shiny things or pressured by other people's successes and methods, however enticing they may be. Just because an opportunity is good, it doesn't mean it's good for you.
I'm also consciously rewriting my definition of success. Nothing is perfect. Nothing is excellent all the time. Sometimes done will do. So maybe I can feel okay about at least fitting a half-arsed teacup into the overstuffed days.
I'd hope this is a poignant life lesson from set 4, but it feels more like a grumble. I kept my head down and pressed on for this one. Tonight, I will make a wishlist for my life after teacups, then think long and hard about my life choices. Or put my feet up and sit in front of the heater. Whatever I'm more passionate about at the time.