These hot beauties are cayenne chilli peppers from a two year old bush in our garden. I had my doubts, as the last couple of harvests haven't been spicy at all.
Anyway, I was wrong. They had some kick, presumably because we've had a very warm summer - letting the plant dehydrate results in more concentrated flavour chemicals in the fruit. I didn't realise until today that cayenne is of decent hotness on the Scoville scale, at least according to the comic sans text on [this website](We planned to throw the lot into a slow-cooked chilli con carne, but one whiff of a fresh cut piece was enough to change our minds.).
We planned to throw the lot into a slow-cooked chilli con carne, but ended up only using four. They lost some heat, but still contributed to the dish. See here this photo with a blob of full fat sour cream. Mm~
Yesterday was full of tasty things. We had lunch at The Red Chair Café in Subiaco. Below is my Vietnamese spring roll noodles.
I'm not usually keen on soft drinks, but this 'Nudie & Soda' was pretty good. It must be new, cos I'm not seeing it on their site. Best thing: it's NOT stupidly sweet. The ingredients say it's carbonated juices plus a little cane sugar - yeah, there's still sugar, but it was listed way, way late, which is a welcome change from seeing sweetener as the first or second item.
For an afternoon snack, I used up leftover lamb stock from a roast we made last Sunday - I say 'lamb stock', but it's just leftover liquid in the slow cooker, about 600ml worth. I was worried because the stock sat in the fridge all week, but I found there was a nice half-centimetre layer of solid lard on top - presumably that helps keep the air out, and the liquid fresh.
A few leftover veggies, handful of rice and some tomato paste (and one garden chilli) made a freakishly yummy soup. No stock powder, no extra salt - aaah, this healthy waste-less kitchen thing is starting to make some sense. :)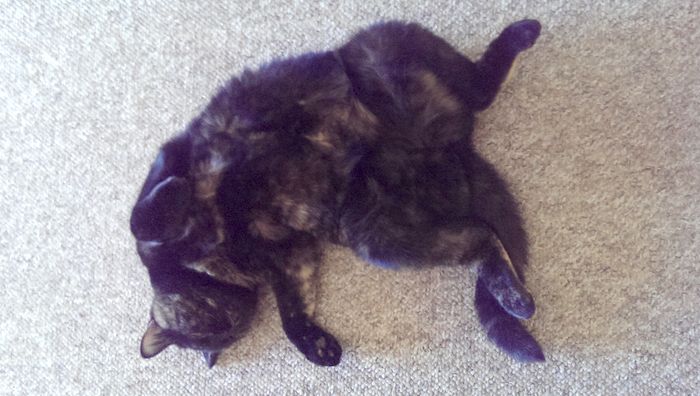 My Fortnight of No Plans has started out well. Got some homework done, watched a lot of telly, and I've been learning how Ghost templates work. I'm mucking around with code again and it feels neat. I think I've missed it. Not as a job, though. Nineteen years ago, I took up dev and design for fun and looking back now, I think working in the industry made me grow to hate it. I never touch it during office hours these days, and feel really happy playing with it again.
Friends tell me it was a bad work environment that let me down, not the work itself. I'm willing to keep an open mind. I'd still like to be less deskbound later in my career.
It's now almost 4pm on a Sunday. I hope you're having a nice weekend too. I'm leaving now to go find something to eat.