We're in the new house and everything is a mess. But slowly, slowly, objects are finding homes, and we are settling into new routines.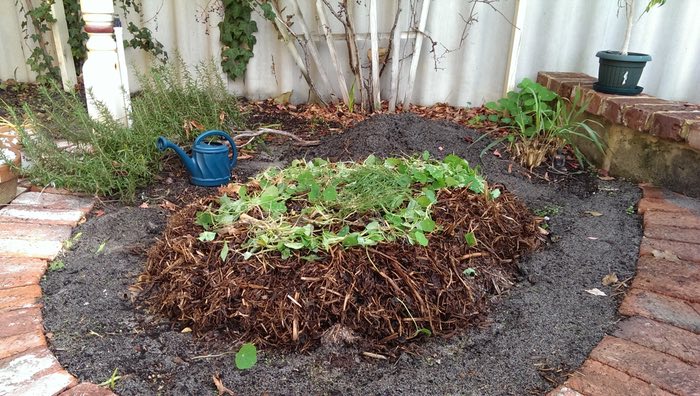 This weekend, we spent some time setting up a 'no dig' bed. It's basically a compost pile you plant seeds and seedlings directly into. At the moment, it looks like a pile of crap. It is actually literally a pile of crap. Cow crap. Wet newspaper, pulled-up weeds and soggy mulch too.
It'll be a couple weeks before I can plant anything in it. Our landlords, who lived here before us, suggested herbs for the amount of sunlight in that spot. So, maybe parsley or coriander.
I've been told this is crazy, but I kept my soil from the veggie bed at our old house. About 250 litres of it in 3 large, heavy bags. After 2½ years of careful cultivation, I wasn't about to discard my loamy treasure. We're due a thunderstorm tomorrow, so I planted kale, carrots, radishes, marigolds, rocket, and a habanero chilli, to see whether any of them will grow this winter.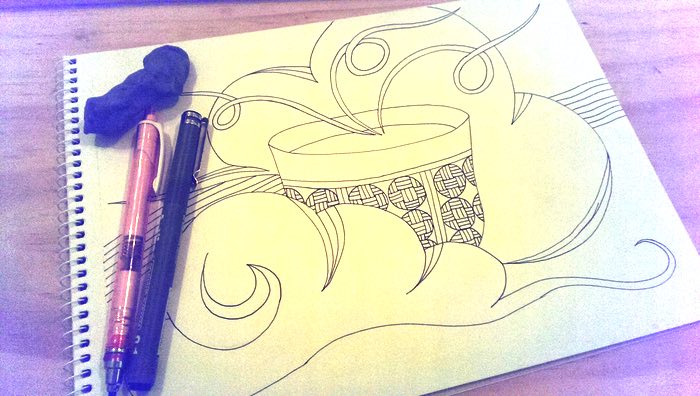 I ordered the Secret Garden colouring book last week, and am looking forward to sipping tea on cold nights, while making colours with various implements. It won't be here for another 3 weeks, and I'm feeling inspired to try drawing colouring book pictures. This teacup was my first go - there are a couple of wonky bits from my unsteady hands, but it was fun and relaxing. I wonder now if I needn't have bothered buying a book, but aaah, I'm still excited. :)
I've been pondering the 'free' time I have now. I say 'free' because when you work part-time, people assume you put your feet up all day and just lounge. I admit, there is naturally more lounging, since you spend fewer hours tied upright to a desk, but think I actually lounged for a greater proportion of my spare time when I worked an 8/5. Simply from needing to unwind and process. Mentally, I feel more awake now that I work less. And at work, I feel focused.
A 3-day work week seems to be optimum for me, so I'm a bit nervous that this month, I'll be doing 4-day weeks to help cover a few projects. In my 12-year in-an-office career thus far, I've had burnout twice. Twice. I'm not even 35 yet. Not only is it a bad state, it makes you develop self-defeating habits that keep you there - so each time, it took a couple years of constant vigilance and re-training to recover.
But I don't want to run from offices like they always spell frazzled doom. I mean, they might (at least for me), but the prejudice does no good. It would be nice to know what this variation in the week will be like, and there are clear and manageable boundaries around this, so I guess it's safe to dip my toe back in at the shallow end. :)
Anyway, I'm feeling the urge to spend some of this 'free' time making things that are not teacups. But for the present, I'm taking it slow, since there are still 43 days left of this bloody project. That should be enough time for both scheming and lounging.
It is time for tea now. Good night, friends!