Last year, I joined a planning group for ideas on how to organise my life better. Yes, it's exactly what it sounds like. It's a group for people who are into planners, diaries, notebooks, stationery, art and crafting. Want to see?
Anyway, when you delve deeper into the 'planning' lifestyle, you come across a concept known as 'planner peace'. Even without being ga-ga over this hobby, I instinctively knew what they meant by this. I think anyone with even a mild planning lilt will understand.
It's where you don't wish your planner, diary, notebook or journal was bigger. Or smaller. Or simpler. Or more colourful. The layout, shape, look and feel are perfect for the way you work, and simply flow into your day. You don't spend your time wrestling with your tools - you just use them as tools, with all your energy directed at the stuff you need to do.
So, with planner peace in the back of my mind, I muddled around with stationery, trying to tune into my needs as someone who is more maker than manager, yet only feels comfortable making when things are adequately managed. I think I've finally found a system that suits the way I work.
Planner peace is different for everyone, because we all do things differently, but I wanted to share what's working for me at this point in my life.
Life buckets with Post-It notes
Before adopting this system, I grouped everything by project. I have a habit of taking on too many projects at once, and things got unwieldy. I was constantly overwhelmed. Life buckets isn't a real system, just something I made up to try and cut down the number of categories I was working with. I wrote every major or interesting area of my life on a post-it note - football, martial arts, big projects, little projects - and stuck them on the wall.
Then I grouped them by similarity. Crochet, knitting and sewing, for example, could go together. I'm in the same headspace when I do those things, and tend to talk about them with the same people. My sports could have been grouped together, but they each linked to different activities and were connected to different groups of people, so I kept them apart.
Finally, I replaced each group of post-its with a new post-it bearing a collective name of the group. I ended up with 15 'buckets' - mental containers for stuff I do - a damn sight better than 30 odd projects. My life made more sense now, and I could see roughly where I was distributing my time. The buckets don't stop me from trying new things; they keep me aware of the sorts of things I gravitate toward, and provide a handy reference for ensuring I don't get lazy with stuff that's important to me.
Over the next 6 months, I refined my buckets so I wasn't juggling 15 things. I regrouped, renamed, made conscious lifestyle changes that would reflect the bucket pattern I wanted to see when I looked at my wall. I whittled 15 down to 12, and now I'm at 9.
I see this as applying konmari to an abstract model of my life. It seems to be working. When I feel I'm spending too much time writing, I move onto making or self-care. Or hanging out with my cats.
Week planning with Hobonichi Weeks
Morning, afternoon and night. That's how I like to plan my time. In blocks, with respect to the week. Enter Hobonichi Techo Weeks, with days already split up into three portions, enough room to write and doodle, and a page just for notes. The special Tomoe River paper is super light, and bleed resistant. I can use watercolours on it, and the other side is still OK. Ah, combining work admin and art. Love it.
The whole Hobonichi Weeks book is as thick as my finger. Which makes it much easier to carry around than the Filofax Metropol Pocket I used to use.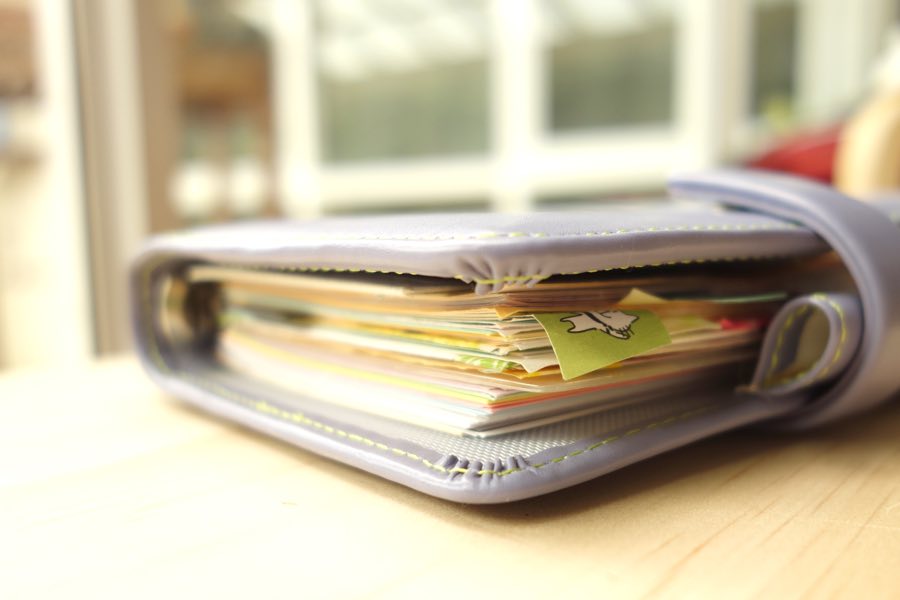 Reference keeping with Filofax
I don't blame my Filofax for not planning my week very well. It wasn't what I bought it for. Originally, I wanted it as a reference diary - a place to keep evergreen information. As my penpals started sending me recipes and notes, I needed a place to stash them.
The default ruler marks the stuff I'm in the midst of using. If I'm in a cooking phase, for example, I'll stick it in there. I use a variety of page markers too for quick opening - washi and paper tabs, a magnetic clasp, and two conspicuously pink flamingo paper clips.
There are sections for penpalling (postage prices, notes), go-to recipes and cooking times, and project notes. Plus a few business cards and ephemera in the front pockets. Nice chunky, tactile storage for chunks of information.
Tracking with Wunderlist and IDoneThis
My Wunderlist is a dumping ground for the tasks of today, tomorrow, next week, next year, whenever, whatever, blah! When I'm in a listy mood, I create a new list just for the day (or weekend, or week) and fill it with new items plus some old items from the dump list (labelled "Waiting list" in the picture).
At the end of the day, I do a little debrief on IDoneThis. Is it superfluous? Maybe. Is it helpful? Yes. It preserves the daily Agile scrum from my dev life, combined with a Done List approach.
Art journaling with Hobonichi Techo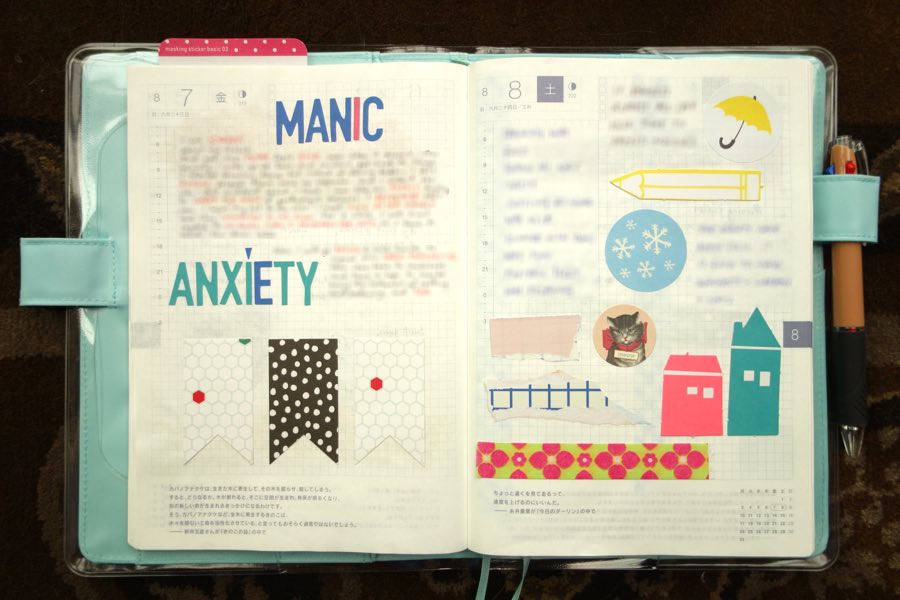 This isn't strictly planning, but sometimes treads into that territory. It helps me organise my thoughts and frame my perspective on things. I use an A5 Hobonichi Cousin Avec for a cross between scrapbooking and art journalling. I note high points, low points, ponder points, thoughts and lessons, and surround them in shape, colour and texture. The end result is visual and kinaesthetic feedback, simple mementos that trigger memories and mood. I guess it triggers a different part of my brain to when I'm just reading words, and I like having those zones lit up.
The d2p (day to a page) limit forces me to focus on what I can fit in a restricted space. I like having a lot of room, but I'm going small next year, downsizing to an A6 Avec.
Standard journalling with Moleskine and a fauxdori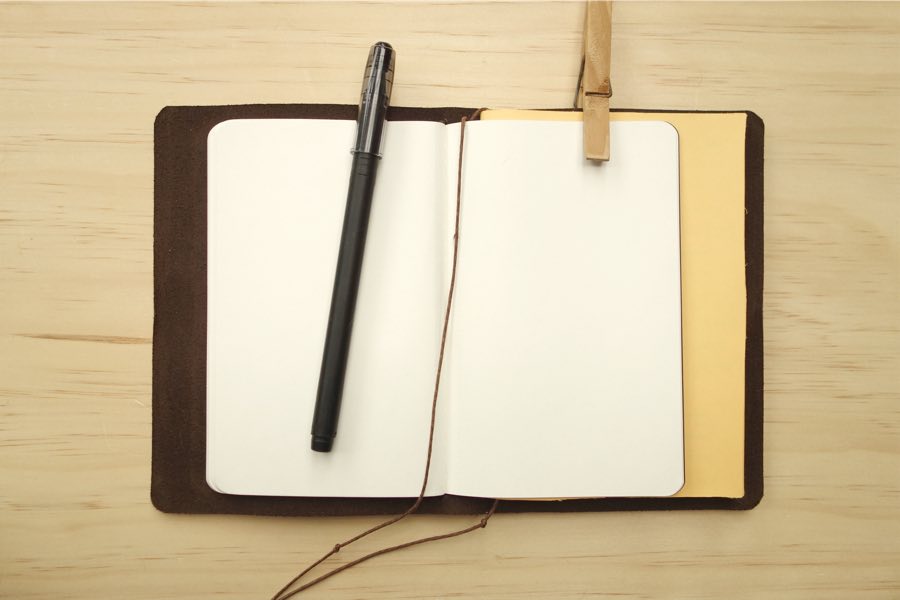 Finally, my trusty pretty-much-text-plus-some-doodle journal for freestyle notes and thoughts. I use blank pocket-sized Moleskine Cahier notebooks or homemade hand-bound notebooks, strapped into a leather fauxdori.
A fauxdori is a homemade version of a Midori Traveller's Notebook, for people who want sizes, colours and materials that Midori don't offer. I got mine from Paperflower Design Studio and was delighted to learn they're based in WA. Yay, supporting local craftspeople!
I wish I had known more about leather when I bought it. I'm curious now about the tanning and sourcing process. But live and learn. I shall have to take good care of this fauxdori for a long time out of respect for the animals and people who produced it.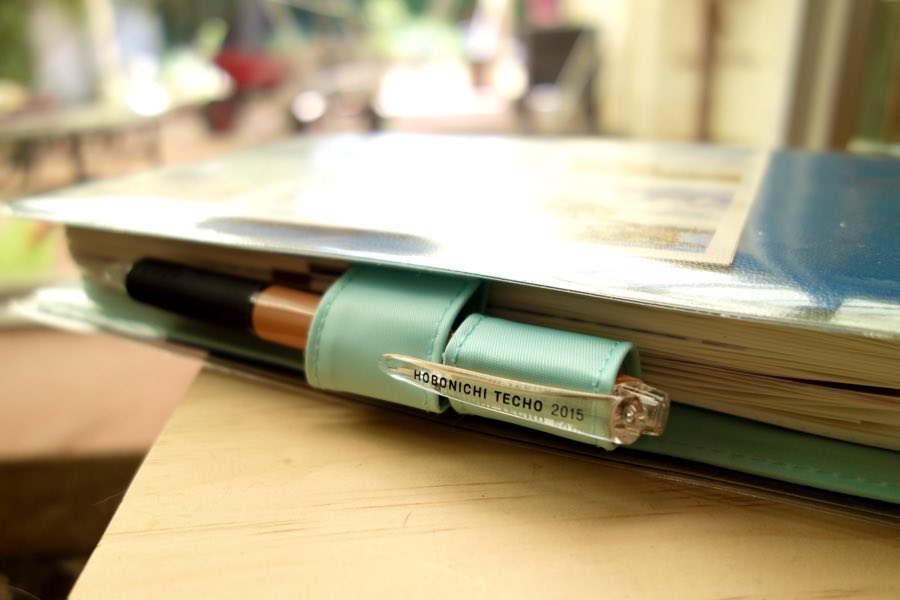 So that's my planning stack.
I'm sure it sounds epic and redundant to most people, but there's not a lot going on here that requires any effort. Each of these tools fits nicely into the way I go about my day, freeing up my headspace or offering a welcome distraction when I just want a pen in my hand.
And when I don't feel like being facilitated at all, I simply shut down, close the books, make tea, and not think about any of it. I've come to accept that my habits are temporal - I need gridlines sometimes, blank spaces other times. I need structure and logic, and then for all that to get out of the way while I'm in the zone. I do words and pictures, and transition between long-term and short-term thinking. So this mishmash of tools suits me fine. I am enjoying my planner peace... for now.