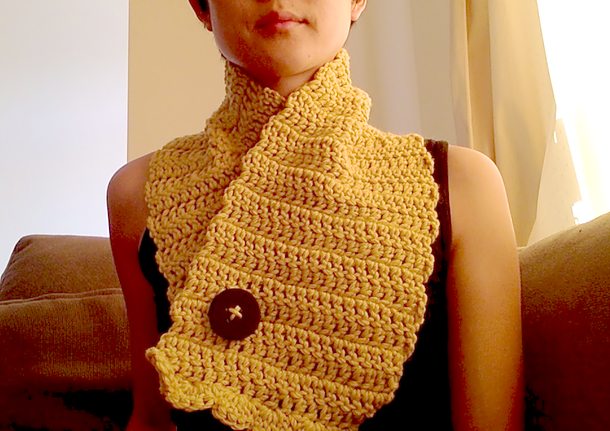 This is a quick and easy crochet neck thing, if you're looking to make something cute for winter - Lemon Balm Button Cowl by Fiber Flux.
My giant chocolate looking button was too big to go through the stitches, so I modified it using the Dummies guide to crocheting a buttonhole.
This edging was made using a shell stitch (the pattern refers to it as a scalloped edge) for a bit of extra cuteness.
Somehow even though this finished piece was smaller than in the pattern, I ended up using more yarn than estimated. Wat.
I'm looking forward to cooler weather. You know, it was 39 last Wednesday, then 24 on Friday, and now we expect to go back up to 38 next Wednesday. Can someone please tell the government their HAARP needs a reboot? :) I know I moaned about the cold when we were in Japan, but it's different now. I'm at home with two fuzzy, purring heat bags, and have plenty of HEATTECH from UNIQLO.