Last Friday, I had the pleasure of attending Moments of Makuru: a culinary tour through some of the bushfoods of Makuru, the Nyoongar "cold and wet time of year".
Expertly catered by RiverMint Dining, with bush tucker ingredients provided by Tucker Bush, this was my first ever pop-up dining experience. I don't normally go to intimate social events where I'm likely to interact with strangers, but in spite of my usual nerves and shyness, I had a good time. I got to meet the fabulous Mary and Jacob of Food & I, and the very talented Jodie Davidson who had some gorgeous art on show that night.
I'm certainly game to try another of these events, especially if the food is always as good as what chef Robyne Low prepared for us that night.
Wanna see?
Broome Pearl Meat, Tamarind, Pureed and Roasted Bunya Nut, Boab Pulp, Sea Parsley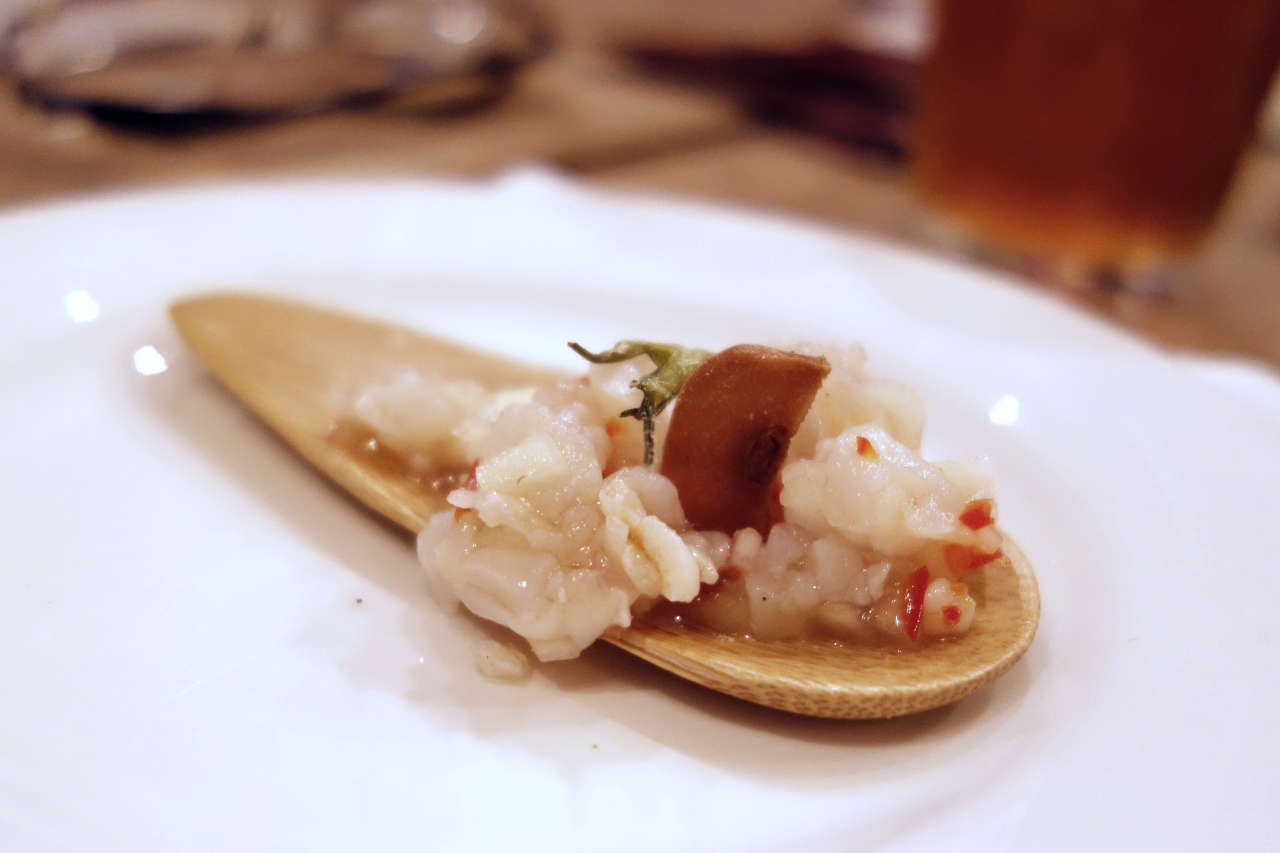 Pearl meat is the adductor muscle of the pearl oyster, and a byproduct of pearl production. If you can imagine a supple oyster meeting a delicate calamari, you'll come close to the taste and texture of pearl meat. According to Poh's Kitchen, this ingredient is pricy af, and my taste buds honed right in — this was my favourite dish of the night. Bloody typical.
Truffled Emu Egg, Pepperberry Spiced Emu Jerky, Crispy Saltbush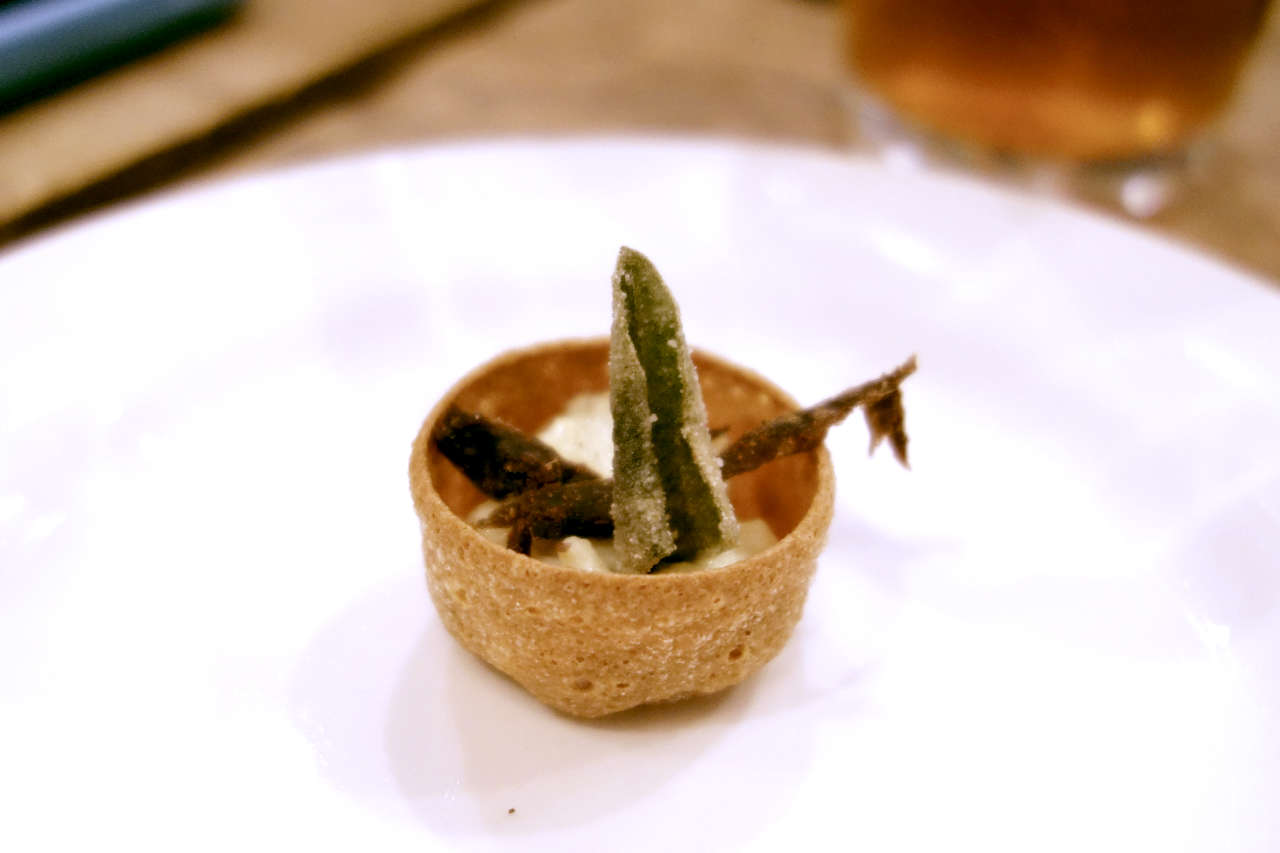 After learning about Old Man Saltbush, I've been dying to try this odd plant. You can eat the leaves like a vegetable: straight off the plant or blanched and sautéed.
In this dish, it came fried, all salty and crispy like, alongside creamy truffled egg, firm spiced jerky, served in a light cracker cup — it's a wonderful mix of flavours and textures, then it melts away, and it's gone.
Bush Bread & Saltbush Rye Soda Bread with Beetroot butter, Black Salt & Pepperberry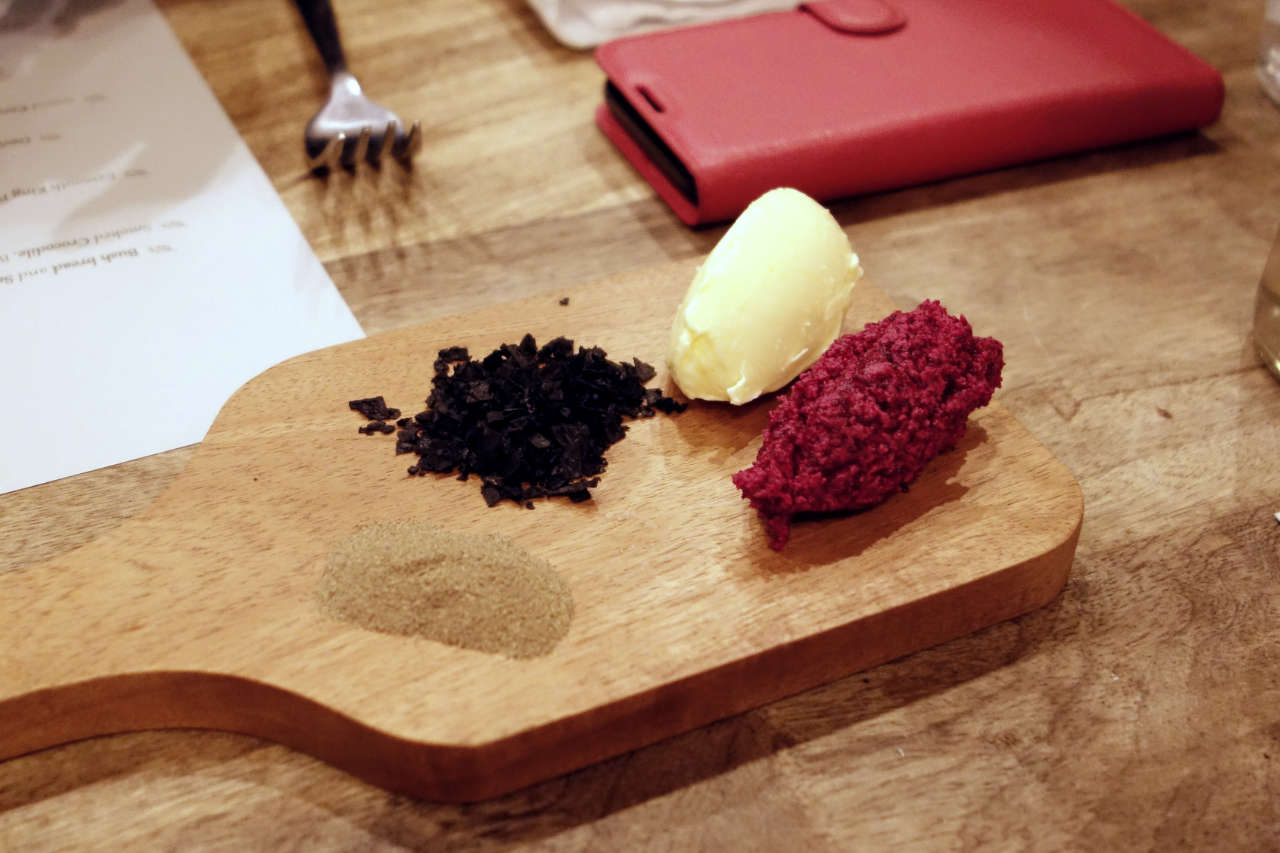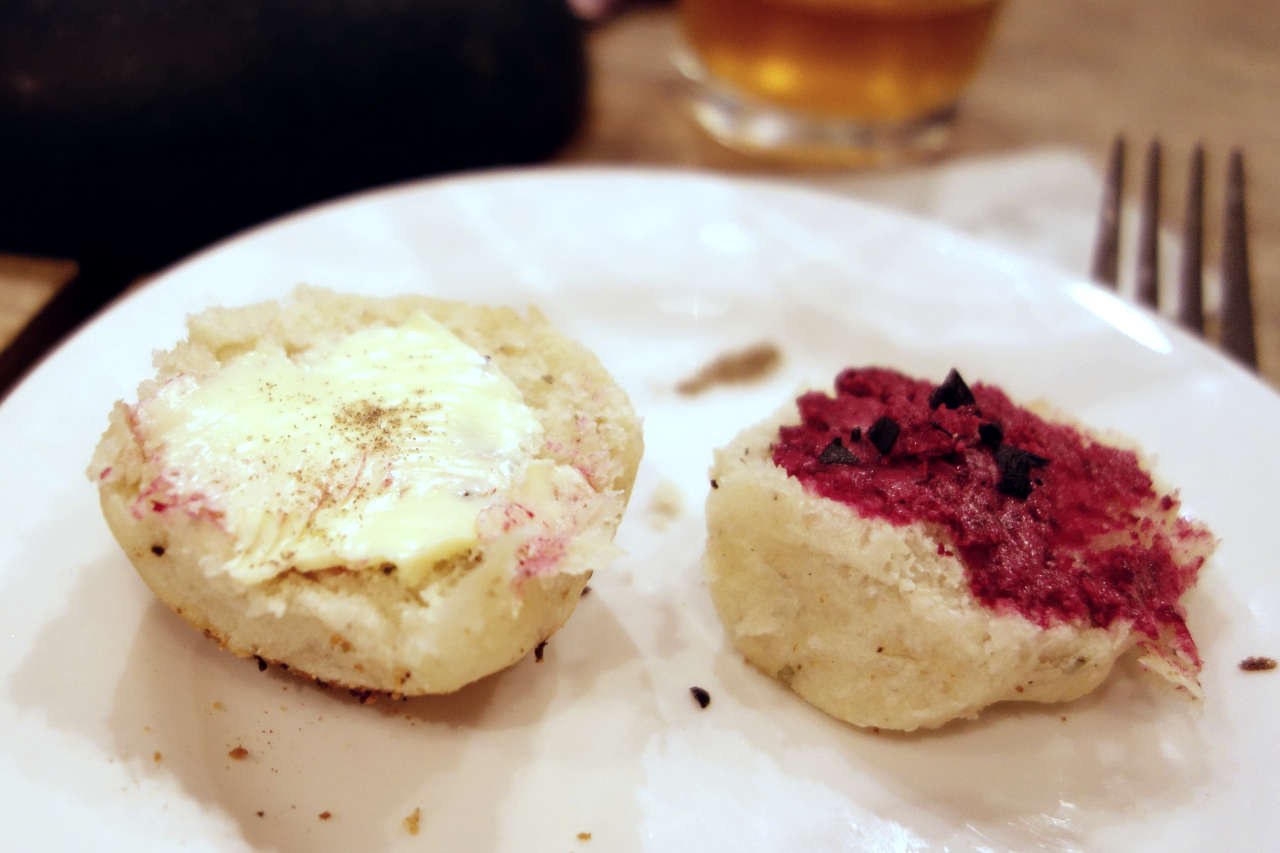 While waiting for our mains, we were treated to two types of rolls: bush bread (which I imagine is damper?) and a salty rye bread (which I ate before I could photograph). Spreads and condiments were a lightly tangy beetroot butter, normal butter, ground pepperberry and black salt.
I couldn't taste the beetroot at first, probably because I was still reeling from everything else I nibbled and sipped. It was only on my second helping that the flavour came through. I'd be curious to try making this at home. It's such a vivid looking ingredient with a novel twist in the taste.
A few of us around the table found the butter way more buttery than usual, and I wonder if it was churned by the chef, or if it was just commercial butter and the placebo effect of having an exciting food experience.
Smoked Crocodile, Jerusalem Artichoke, Spiced Rhubarb, Charred Cucumber, Lemon Myrtle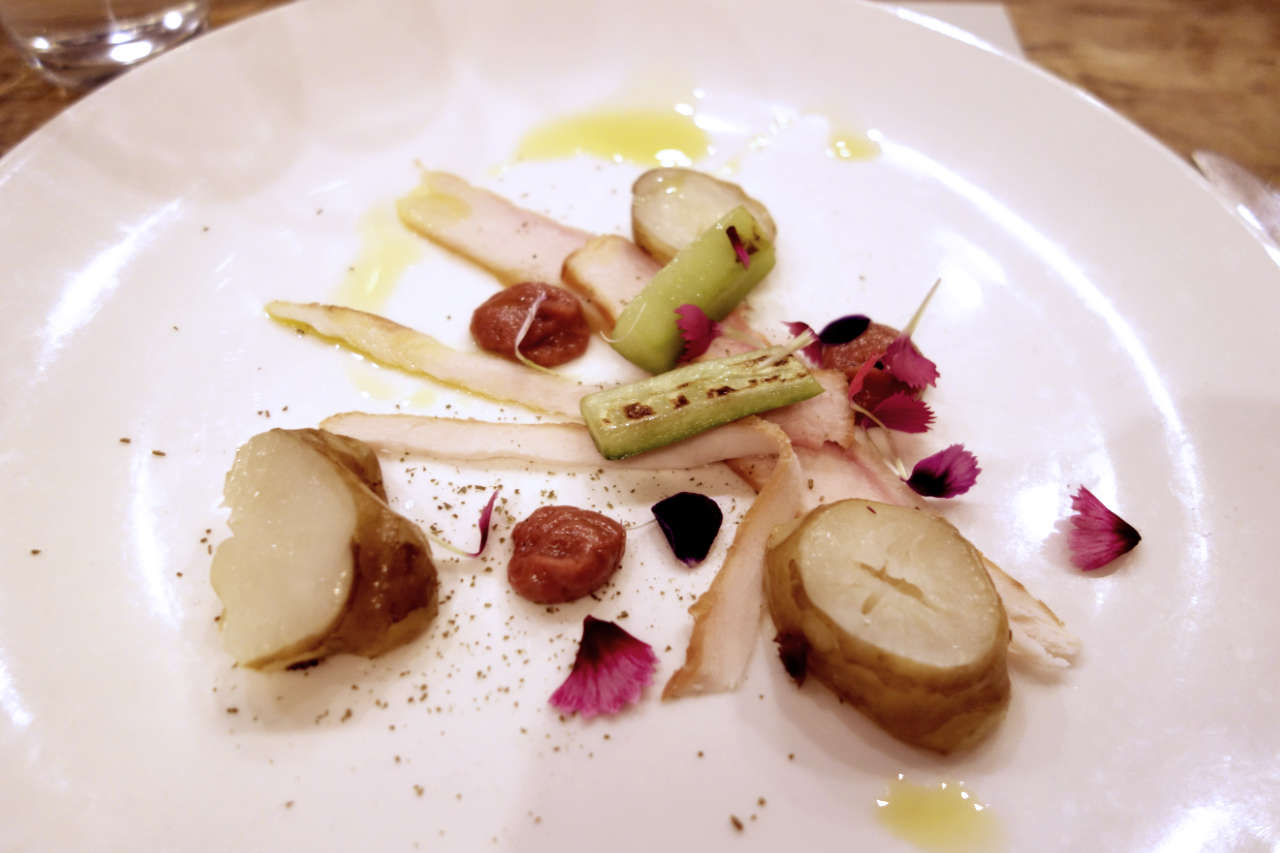 Doesn't look like pub grub, does it? Without knowing the ingredients I would have guessed pressed turkey, roasted spuds and grilled cucumber. But turned all the way up to eleven.
If you've not had crocodile meat before, expect something along the lines of poultry breast. It really did have the texture of pressed turkey, but with an intense smokiness that contrasted nicely with the mild flavoured Jerusalem artichoke, which chews like a cross between potato and squash.
Exmouth King Prawns, Native Lemongrass & Gubinge glaze, Sea Rocket, Baby Pigface, Burnt Citrus, Prawn Emulsion, Blood root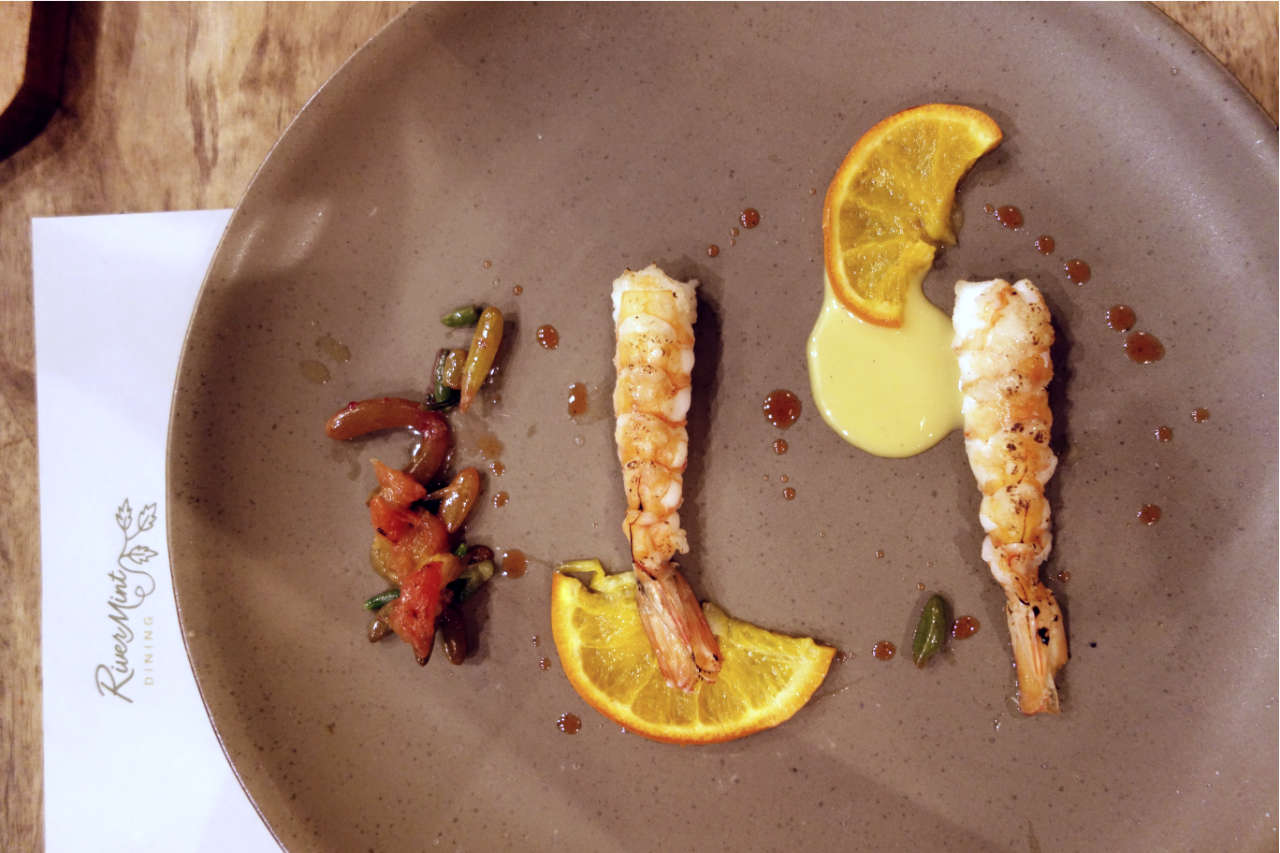 Everything about this dish was beautiful: the prawns were perfectly cooked, the tails were light and went down easy (yes, I eat prawn tails sometimes), the sauce and glaze had lovely tang and bite, but the standouts for me were the sea rocket and baby pigface.
It's always a novelty to try new plants, especially when one is from the sea and the other you can find growing on suburban verges. As expected, pigface is a little like aloe vera in texture. I would eat this again.
Davidson Plum Sorbet, Atherton Ginger, Caraway crisp, Wild Fennel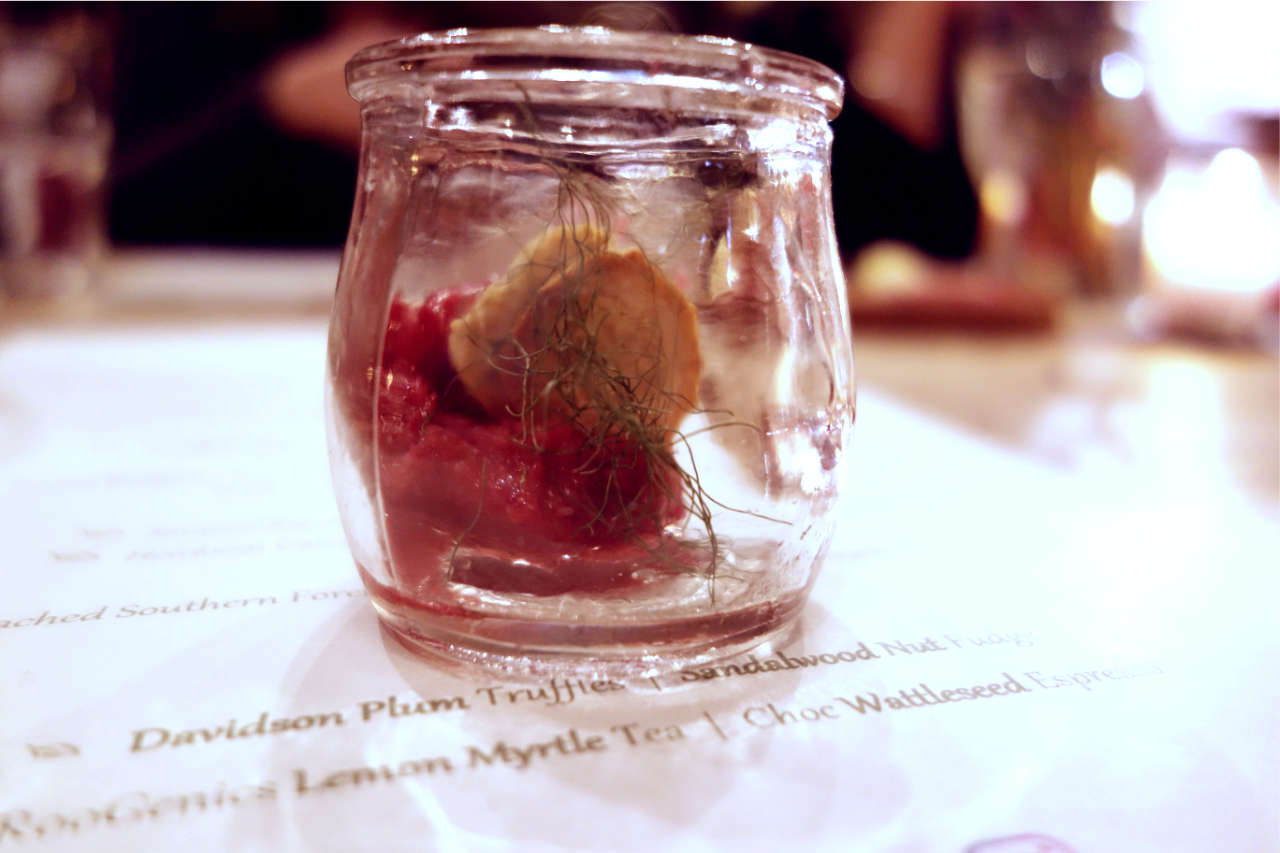 Davidson Plum is an easy favourite. It's sweet and tart and made a wonderful palette-cleansing sorbet midway through the mains. I couldn't pick out the ginger, but really enjoyed how the pungent fennel and caraway flavours matched with the fruity tang.
I could eat a whole dessert of this, no problem, but perhaps what made this course special was how fleeting it was, both in the mouth and in our experience of the entire menu.
Seared Kangaroo Striploin, Royal Blue & Braised Roo Tail Croquette, Red Cabbage & Granny Smith, Illawarra Plum, White Garlic Puree, Game Jus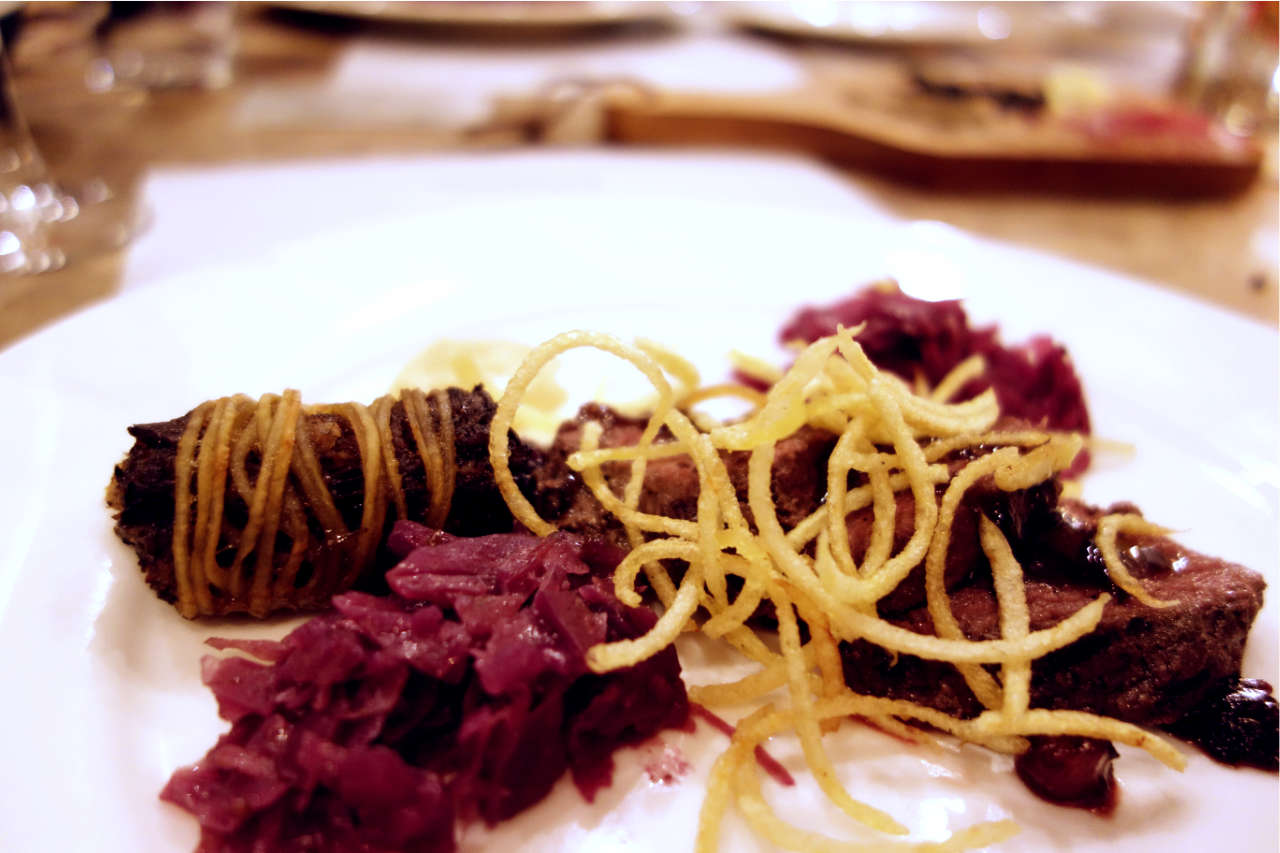 This dish was full of little delights and mysteries I did not expect. For starters, I didn't think I'd feel so full after just one slice of roo loin. Granted, we'd been slowly eating and drinking for about two and a half hours by this point, but I still felt peckish when they served this course.
The roo tail was a new experience. I'm not familiar with tail, but always expected it to be tough. This was soft, tender, juicy; all sorts of mouthy goodness. The sweetness of the cabbage and plum went well with the rich meat, and the white garlic puree was insanely good. I'm used to garlic anything being pungent and breathy, but this was creamy and almost cheese-like in flavour.
Sauteed Rapini, Ice Plant & Wild Mushrooms, Ruby Saltbush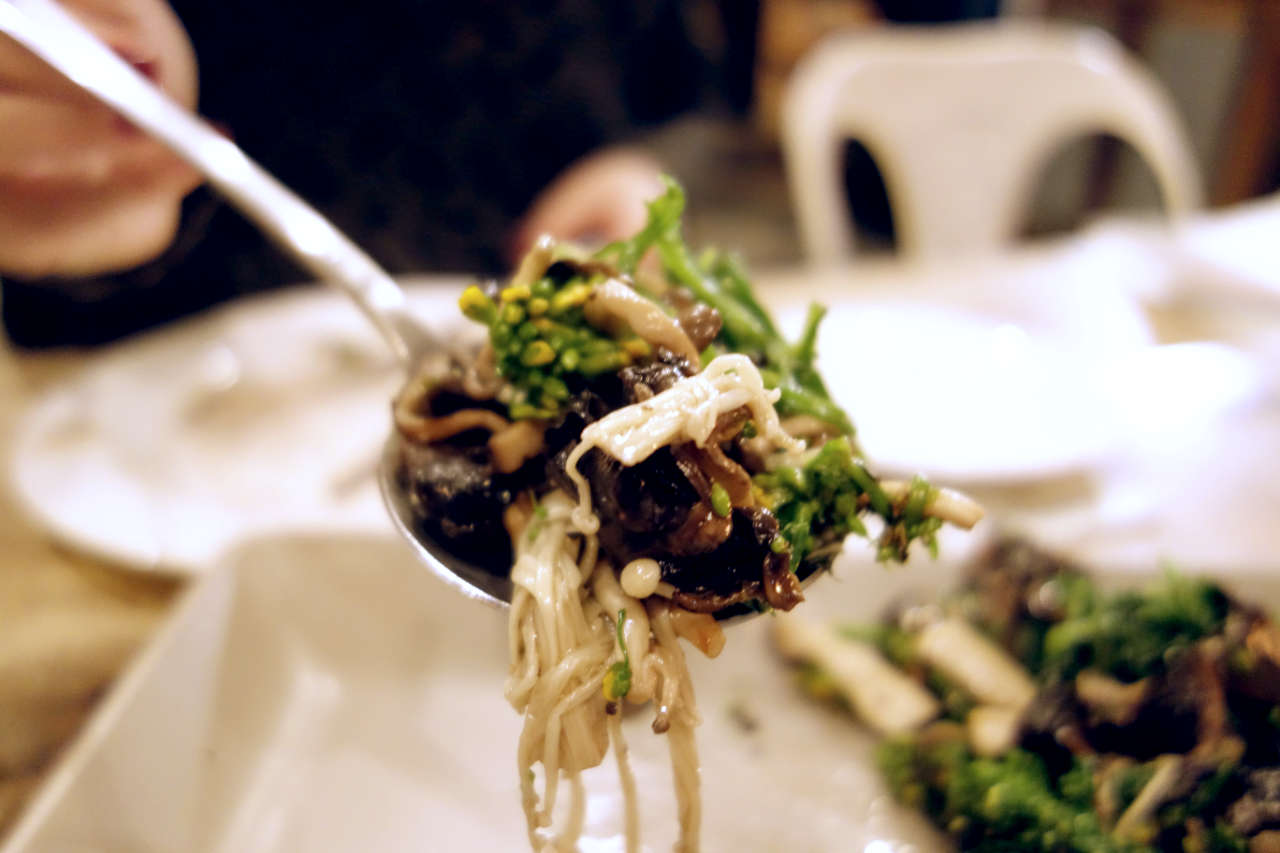 I was getting full by this point, but determined not to miss out on anything. Especially not a dish loaded up with mushies. On a night so cold, I'd consider this an ideal salad. Salty saltbush, shroomy shrooms and a juicy vegetable crunch.
Heirloom Carrots & Braised Fennel, Creamed Omega Walnuts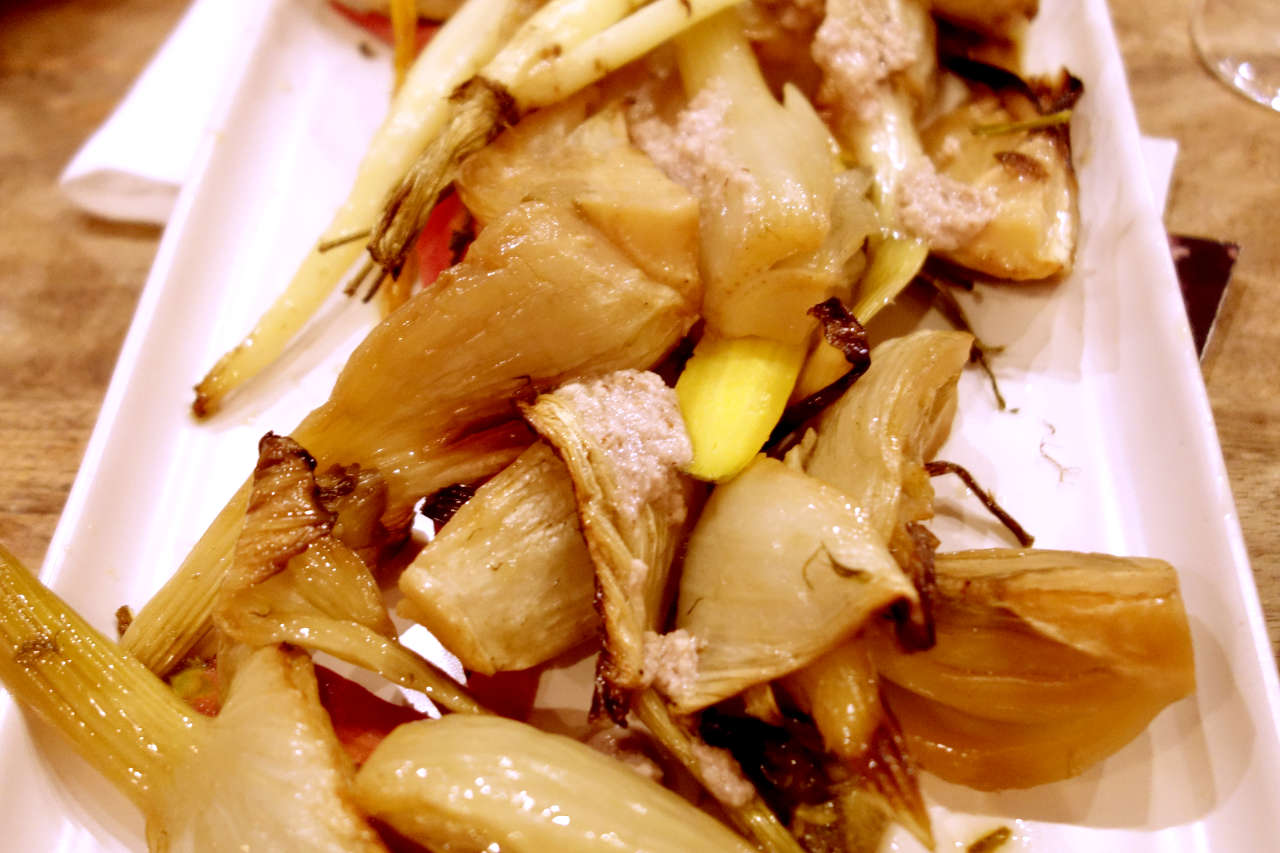 A homestyle, farmstyle dish I'd consider hipster food in today's scene. The kind your artist auntie would pull out of a Smeg oven in her designer kitchen with heated floors, and set down next to a full Australiana bouquet on a family sized wooden table.
"Eat your vegetables, dear." Yes, ma'am.
Carrots always taste like carrots, but with a hint of whatever colour they are aside from orange. I'd like more colourful carrots in everyday life. The fennel was a nice twist influence too, and the nutty walnuts made everything moreish. One of the rare times I feel this way about walnuts.
Wine-poached Southern Forest fruits with Native Berries (Pink berry, Munthari, Lilly Pilly, Illawarra Plum), Chestnut Cream, Chocolate Sable, Lemon Aspen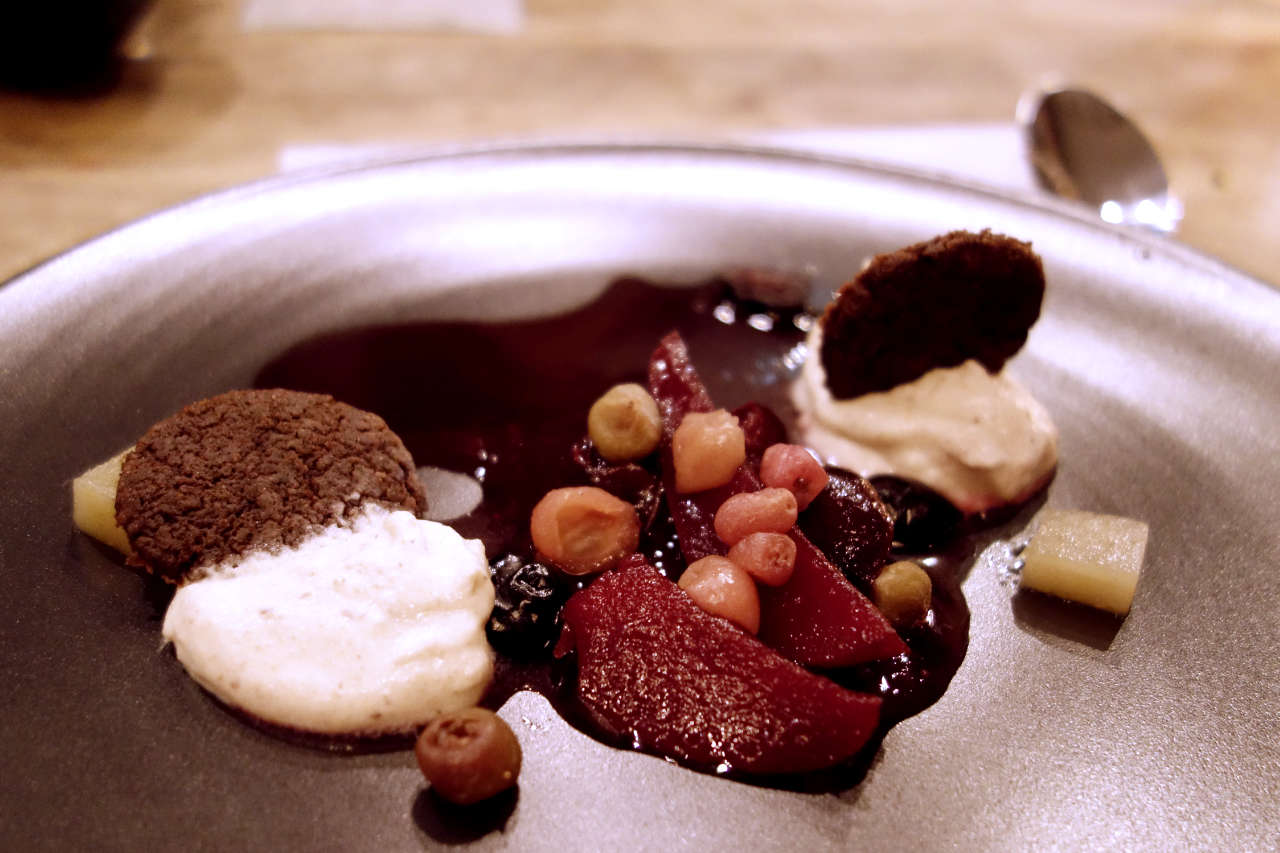 All right, dessert. This mixed fruit course was the perfect on-ramp to sweets, combining sweet, acidic fruitiness with the groundedness of nut and chocolate biscuit. All the Australian berries I've tried seem to have interesting flavour twists; they're never just sweet, but have a tang or a spice or a bite to them.
One of these berries had a gingery freshness about it that I'd like to taste again. I'm guessing it's the Munthari.
Davidson Plum Truffles and Sandalwood Nut Fudge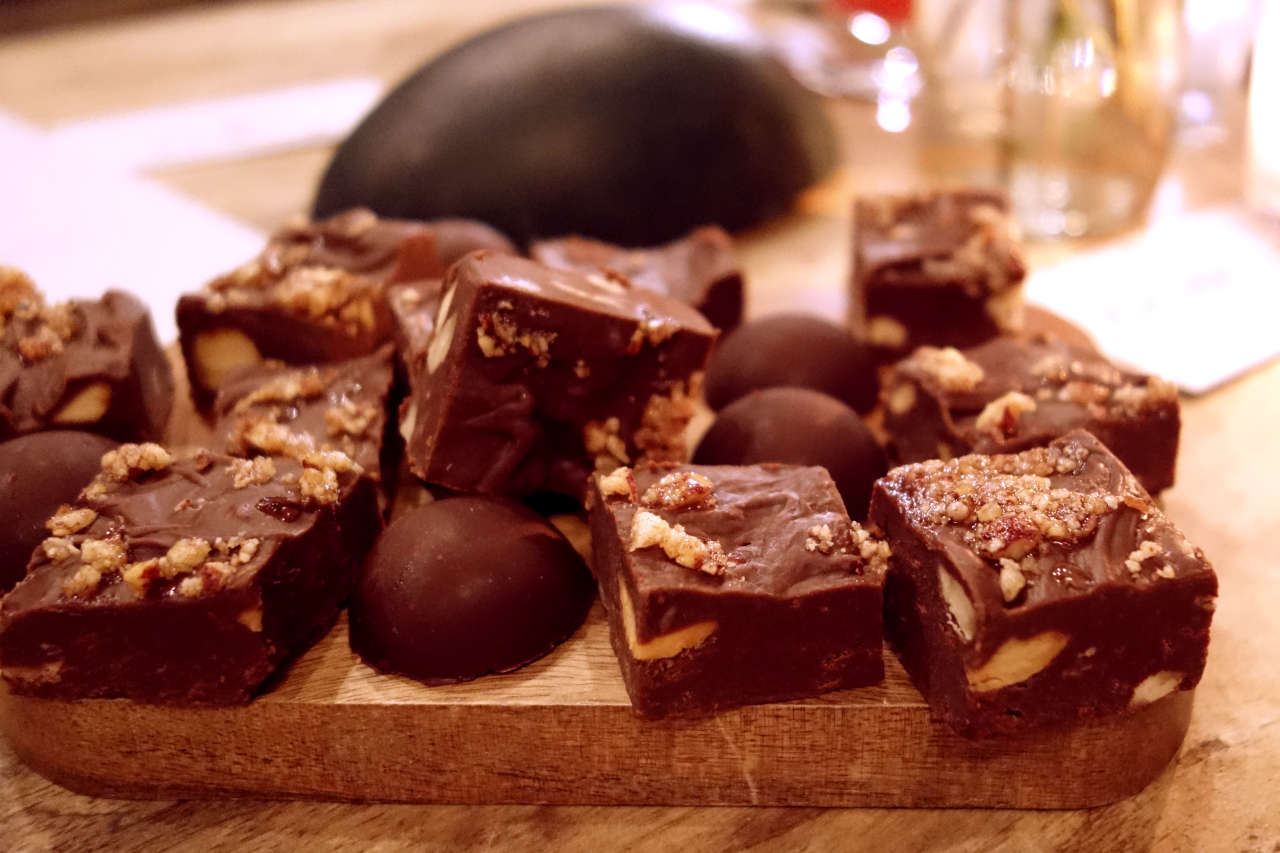 I couldn't decide which of these two chocolate treats I liked best. The fudginess of the sandalwood nut fudge would normally be a clear winner, but just one bite of the little round truffle sent a spray of Davidson plum deliciousness all over my tongue. Hard to say no to that.
RooGenics Lemon Myrtle Tea and Choc Wattleseed Espresso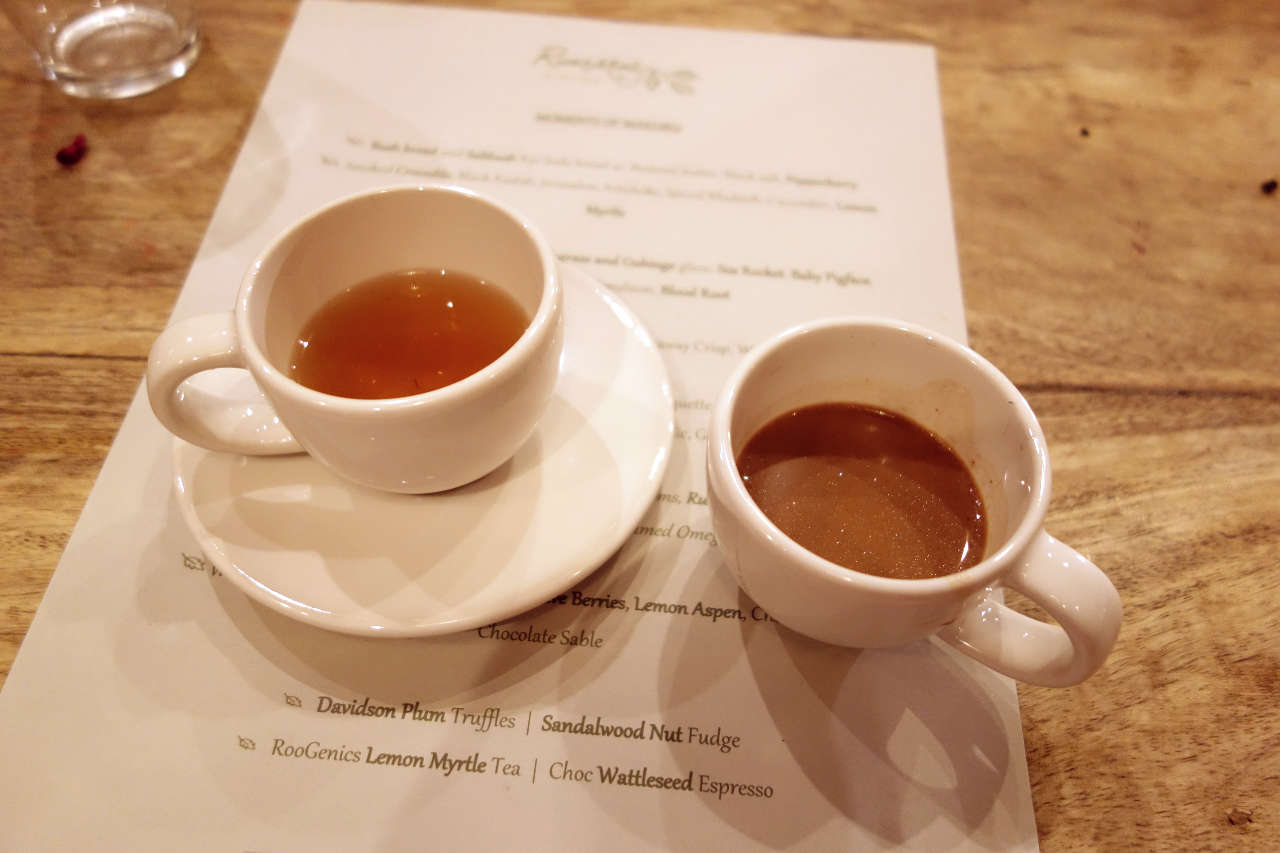 I didn't want to miss out on either of these beverages, so I did the cheeky thing and asked for a little of each.
If there was coffee in the chocolate wattleseed espresso, I couldn't taste it. The drink was runny in texture, but had the intense chocolatey-ness of the Spanish hot chocolates you find at San Churro, sans the sickening sweetness. Earthy, slightly buttery, maybe from the seed oils? The tiny taster amount was just right at the end of a three-hour food fest.
The RooGenics Lemon Myrtle tea was very refreshing; strong, bitey, super citrus. It's not hard to see why this myrtle is "Queen of the Lemon Herbs".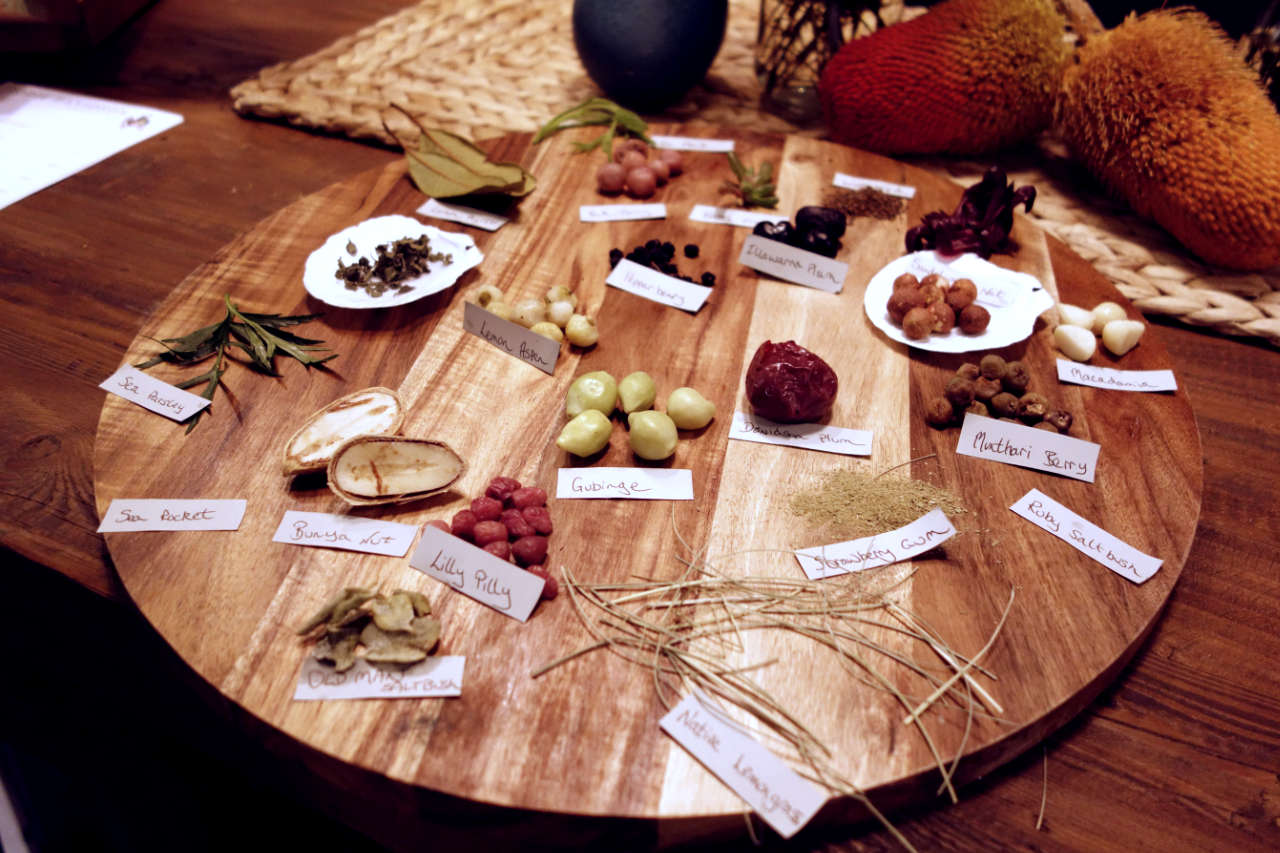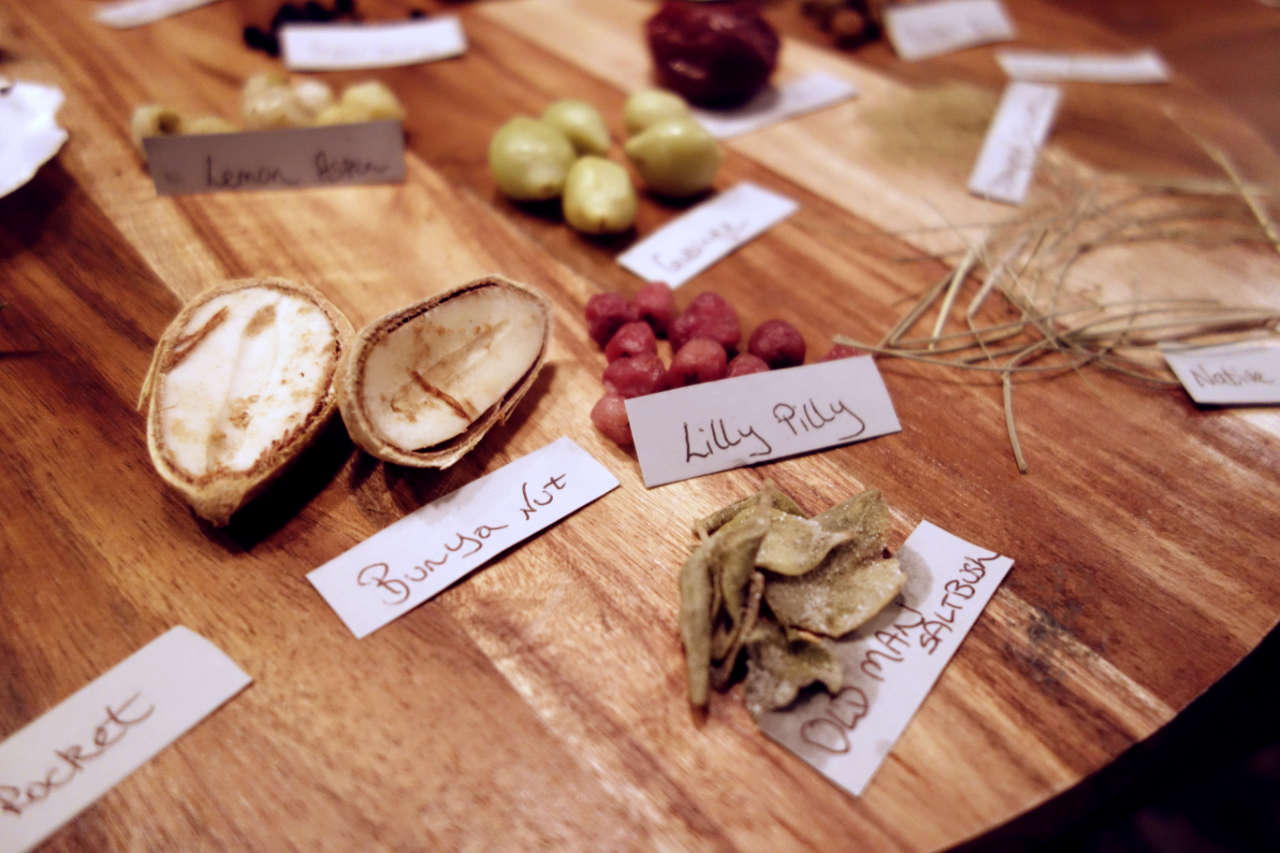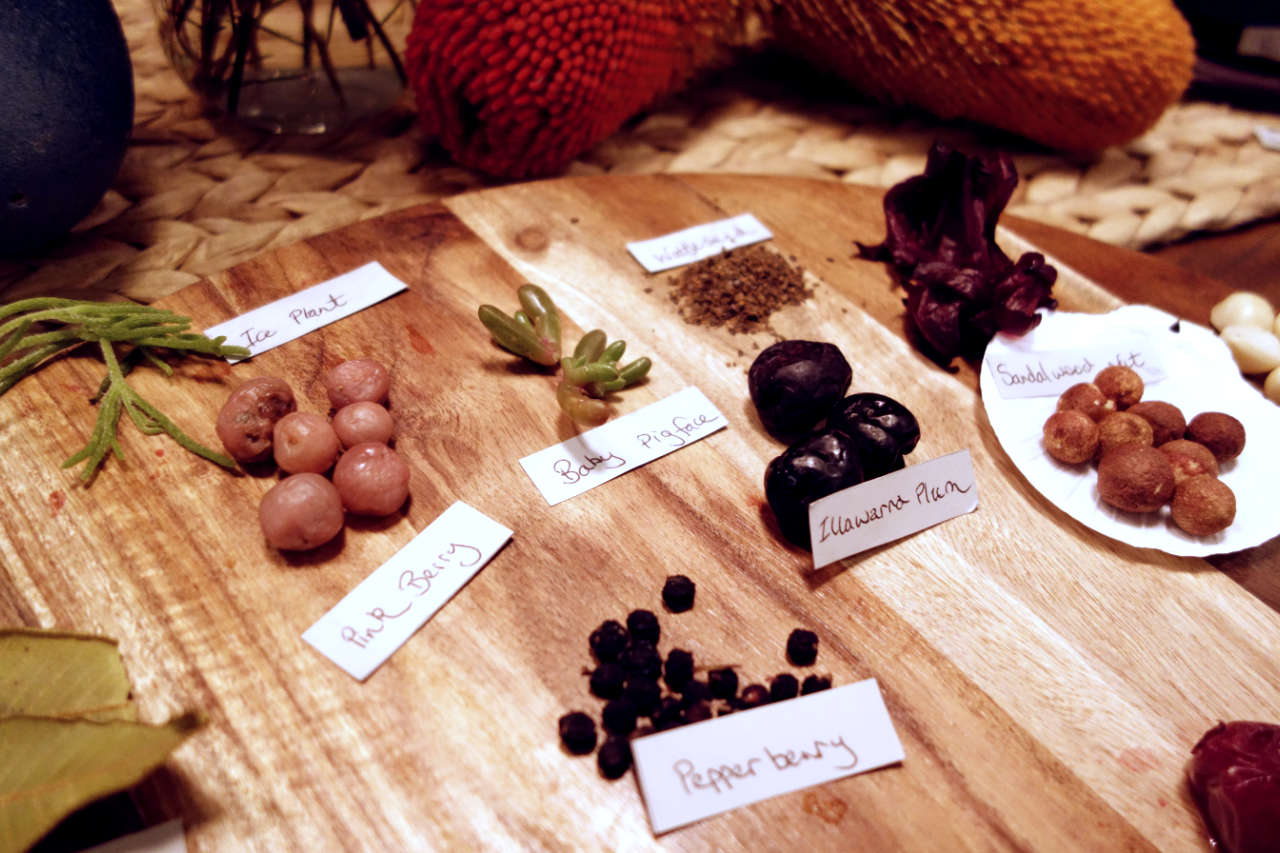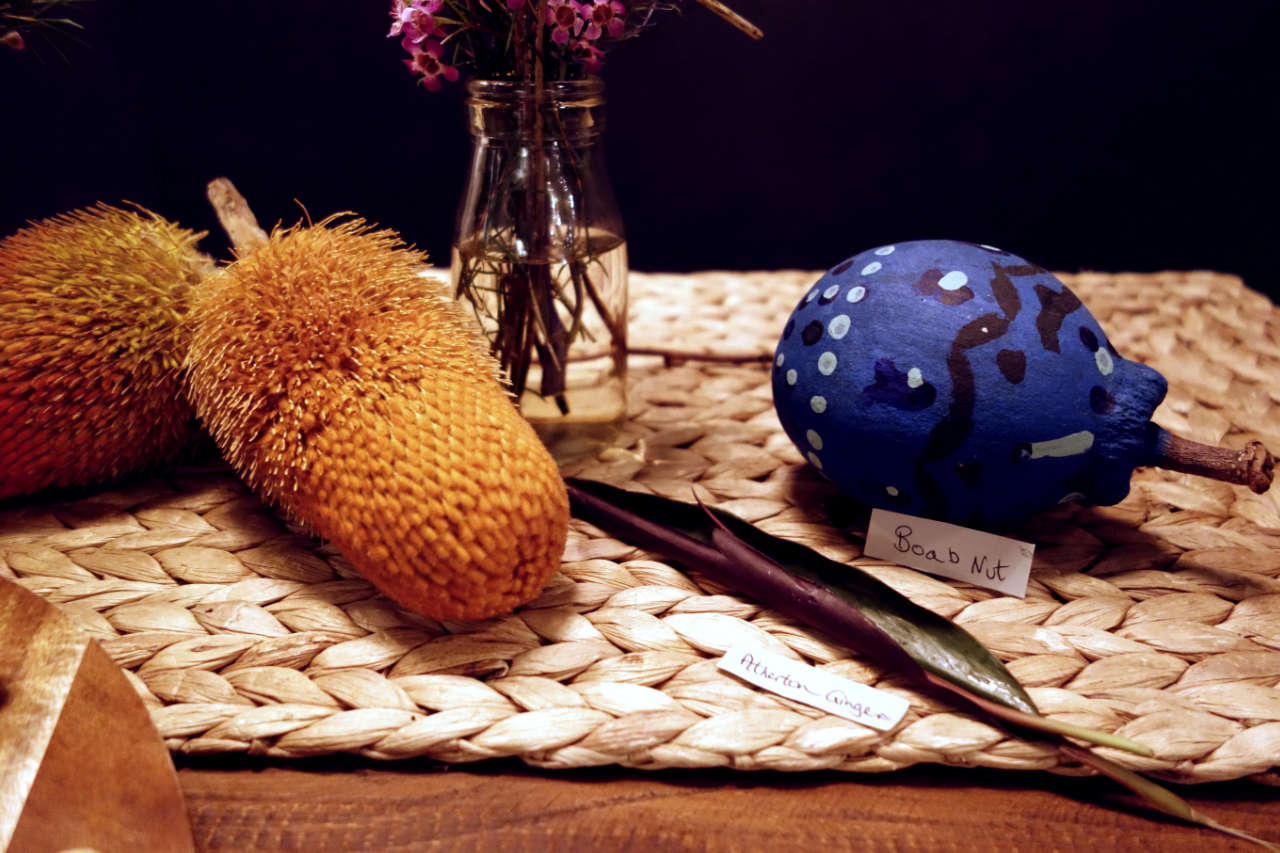 I like pop-up dinners now
I've signed up to RiverMint Dining's newsletter and am looking forward to trying another dinner at some point. That's a big step for me. I generally balk at degustation prices, and was chuffed when a client got me a ticket to this event. Knowing what I know now, I'm keen to go again.
Usually, the concept of seasonal eating goes over my head. The modern food industry means we can have out-of-season stuff all the time. So, what's the big deal? But looking at this from a bush tucker and Nyoongar perspective helps me understand it better. There were no hothouses and factories in pre-colonial Australia. Seasons mattered, and in terms of Aboriginal custom and tradition, they still do.