We went to Bali earlier this month, and despite everyone's recommendations for where to go, what to see, etc., we had our hearts set on a "writing retreat".
This meant no touristy things, no specky camera, and nothing that constituted being "busy", so we could focus on resting, recovering from stress, catching up on reading, and getting some Nano done.
We picked a private pool villa at Komaneka at Tanggayuda (Ubud) for a holiday home, enjoying all the perks and facilities (and getting some writing done). And here are the somewhat grainy, potatophone postcards to show for it...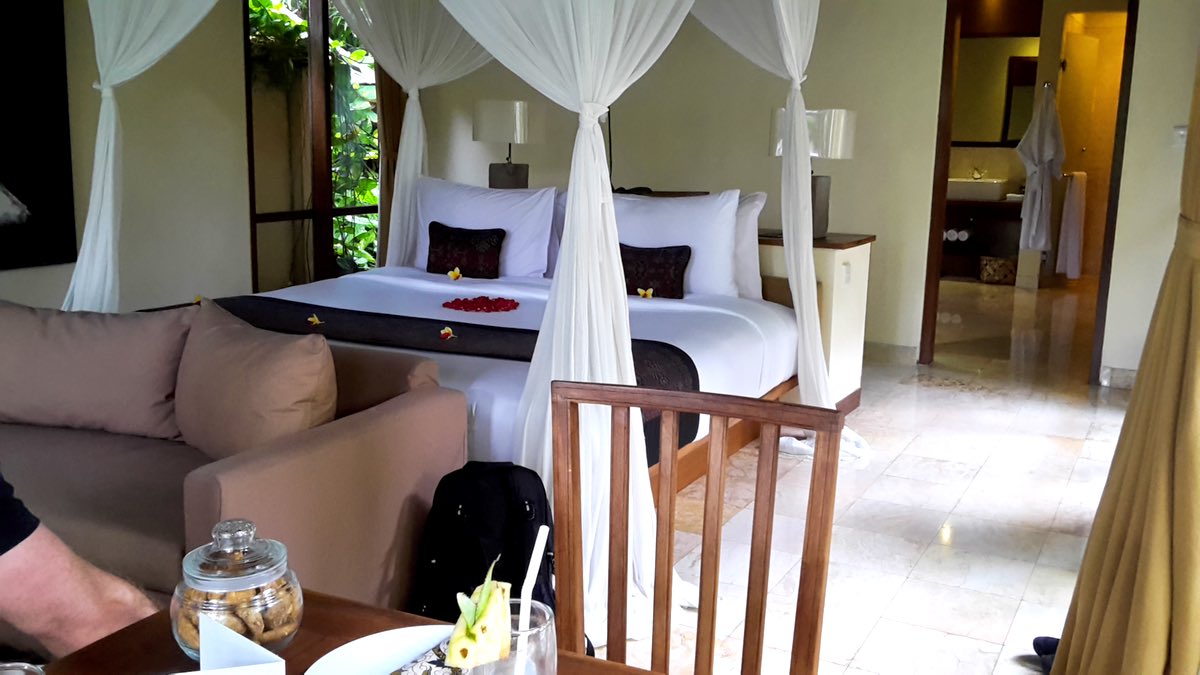 Our one-bedroom pool villa with a small sitting area, tiny dining table, bed, desk and bathroom. Oh, and the pool in the backyard. It was all very comfortable. I could live in a place like this if it had a kitchen too.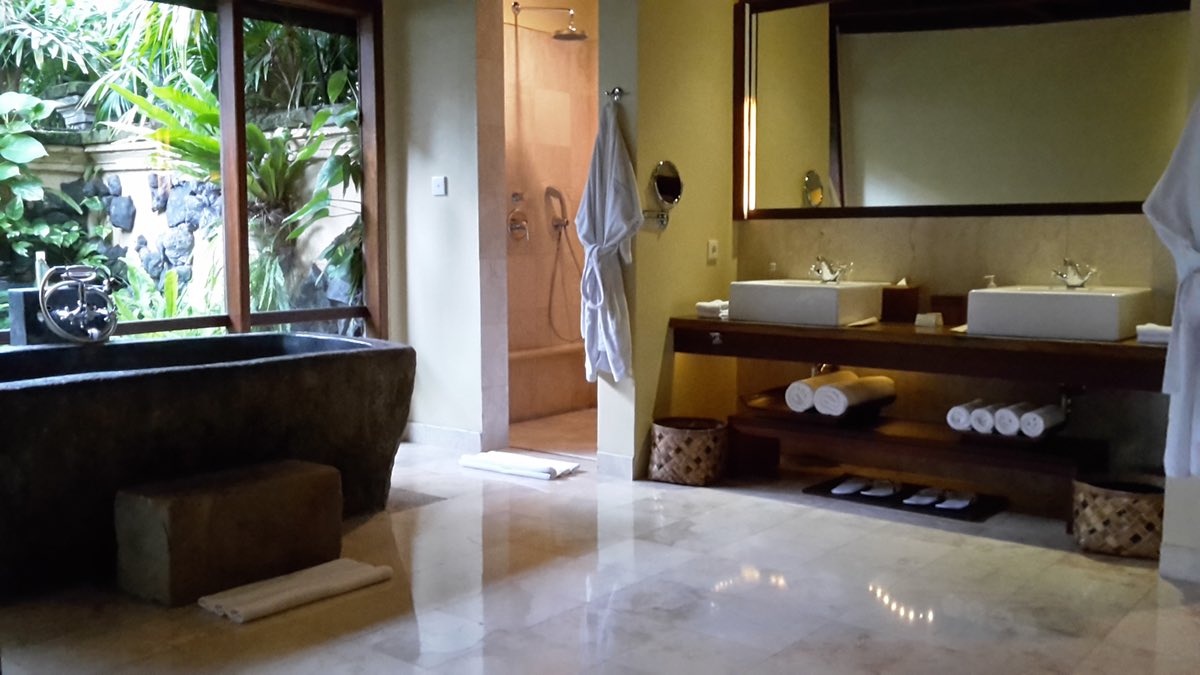 Very spacious bathroom/dressing room area. Note the stone bathtub and gorgeous atrium view. It had a pond too. We were treated to beautiful frogsong every bloody night.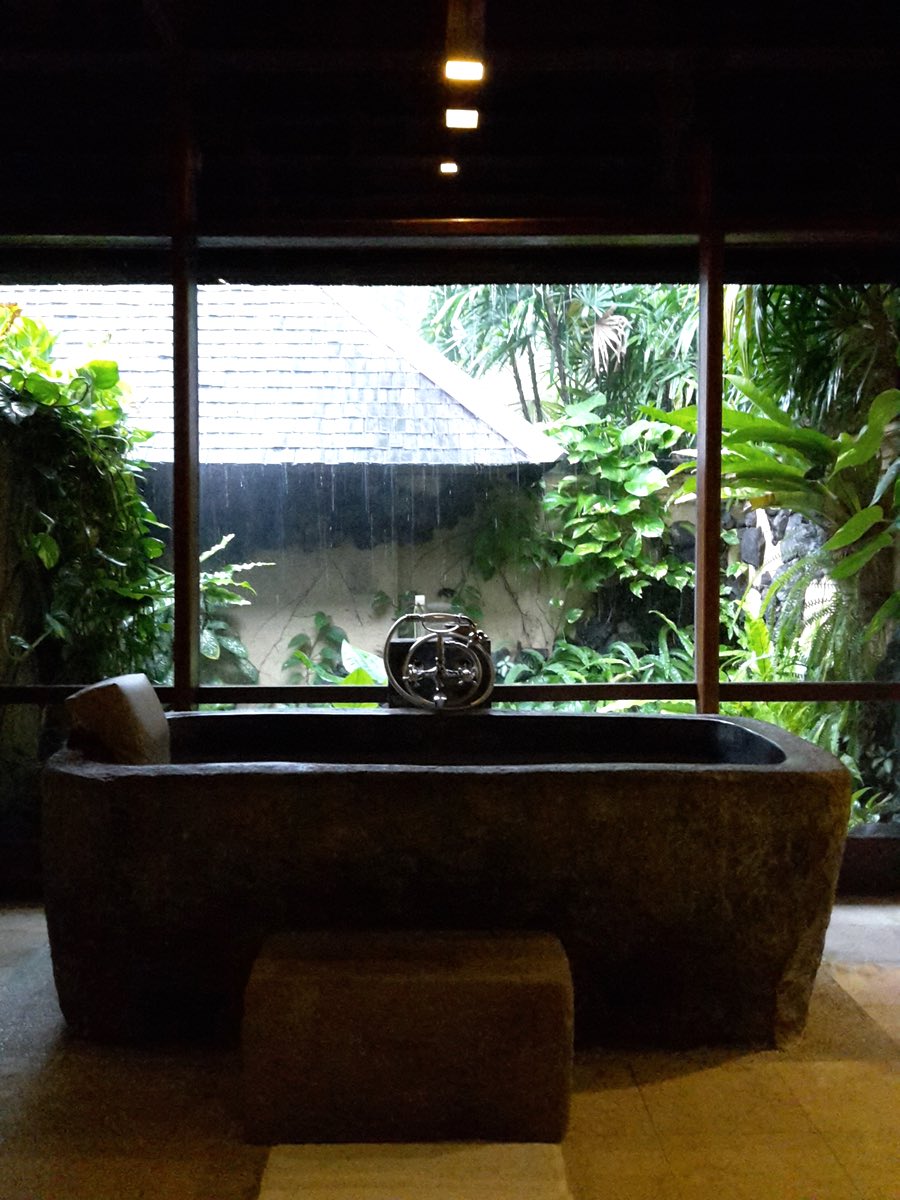 Stone bathtub in all its glory. I was skeptical about how comfortable it would be to sit in, but it's actually quite nice. Yes, that's a cushion on one side. :)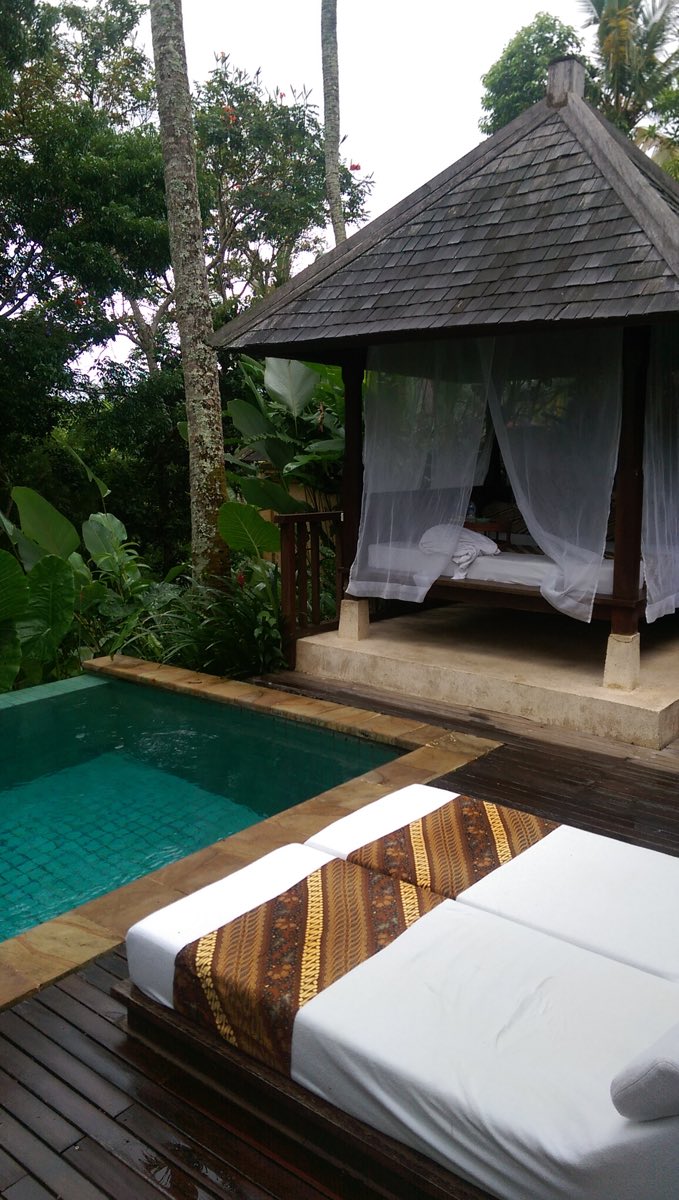 Here's our private pool. Most of the non-raining day time was spent out here pm the daybed, writing in fresh air and jungle ambience.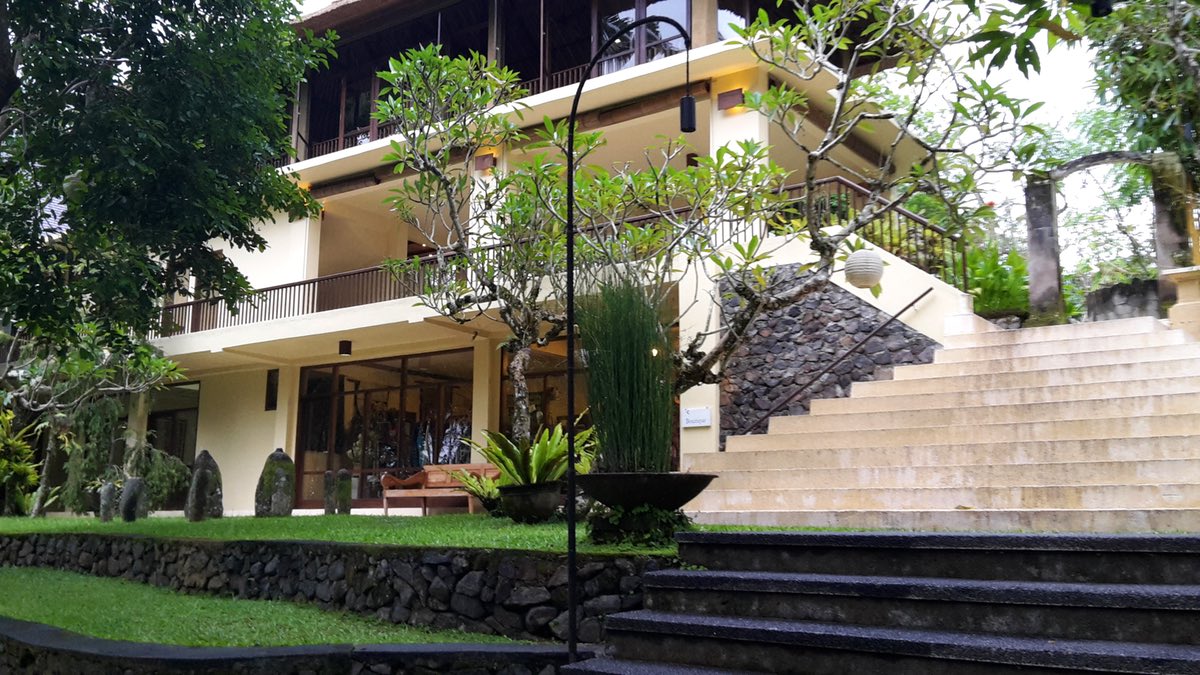 The resort complex was just beautiful. You're surrounded by nature everywhere you go, and the manicured stuff blends in well with the wild stuff. There's grass, garden beds, trees and vines all over the place, along with the bugs and critters that go with them.
Above is a view of the reception area and the boutique from the courtyard. Below is a view of the courtyard from the steps.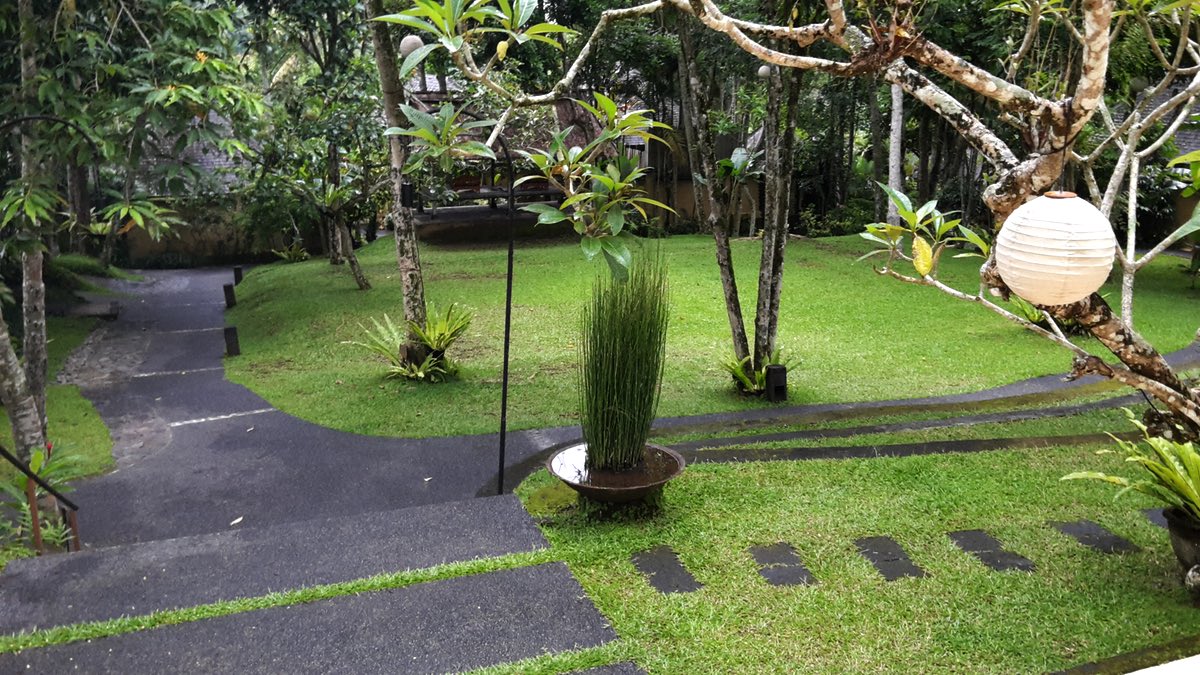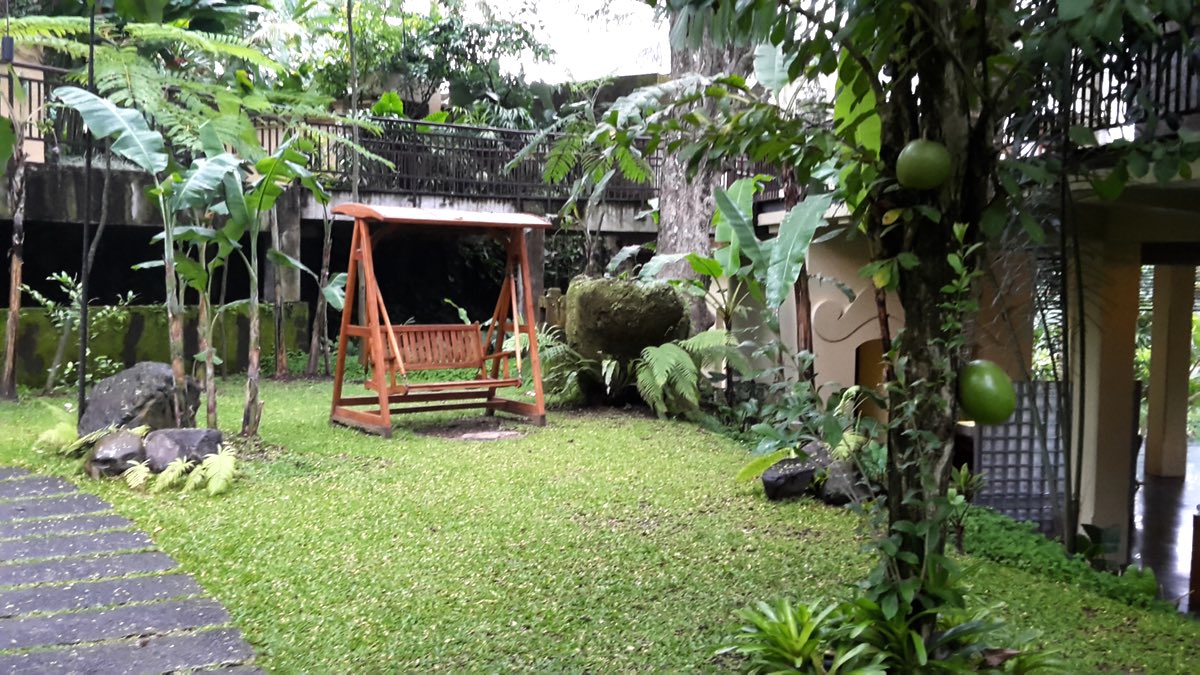 A quaint wooden swing just next to the Batukaru Restaurant, where we took our included breakfasts and dinners. I think the trees on the left are banana, and the fruits on the right are pomelo. These weren't labelled, but some trees around the property were.
Like this one...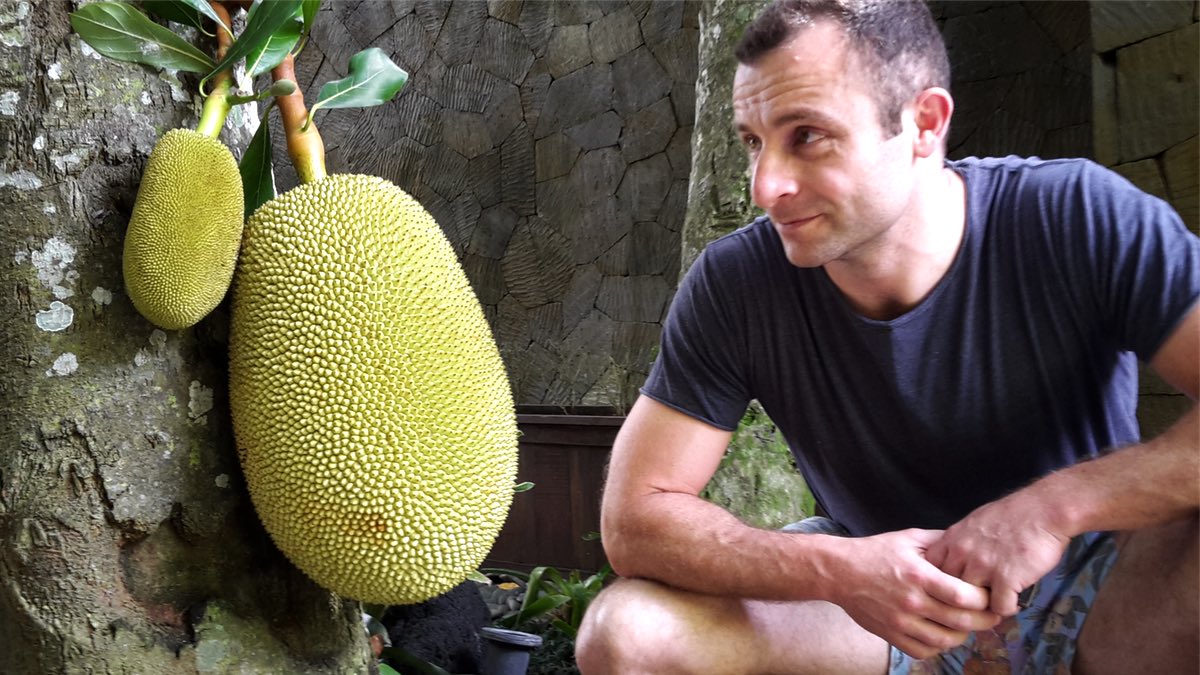 A big ol' jackfruit, with a jerkfruit next to it for scale. :o)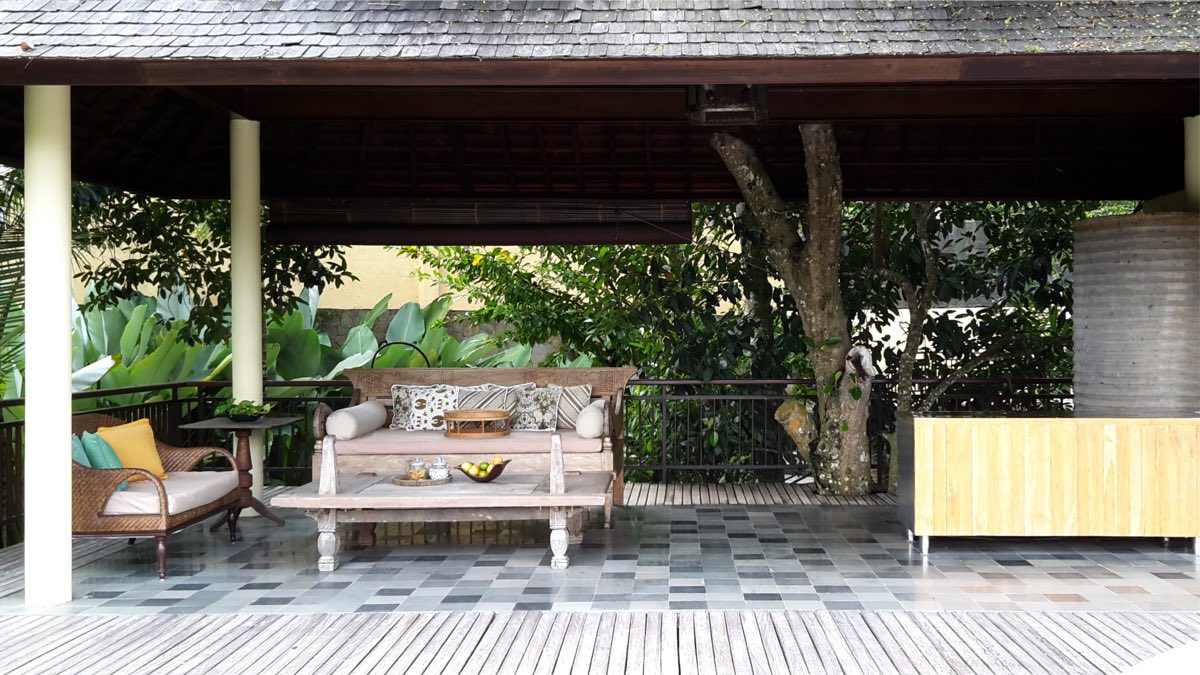 The top floor of the restaurant is a bar area, though you could be forgiven for thinking it's just a lounge. We went up one afternoon to check it out. It was unoccupied and unmanned; we wouldn't have guessed it was a bar if we hadn't been told. We sat around on the many comfortable seats just enjoying the peace and the view.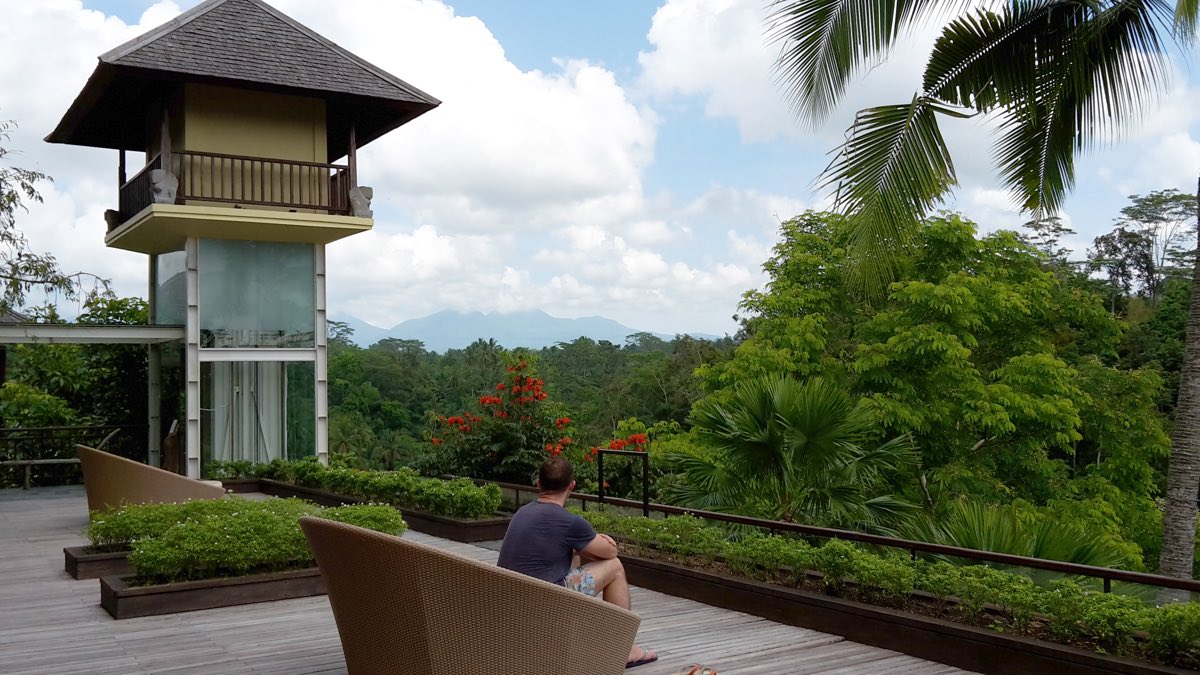 Looking over the canopy at a mountain.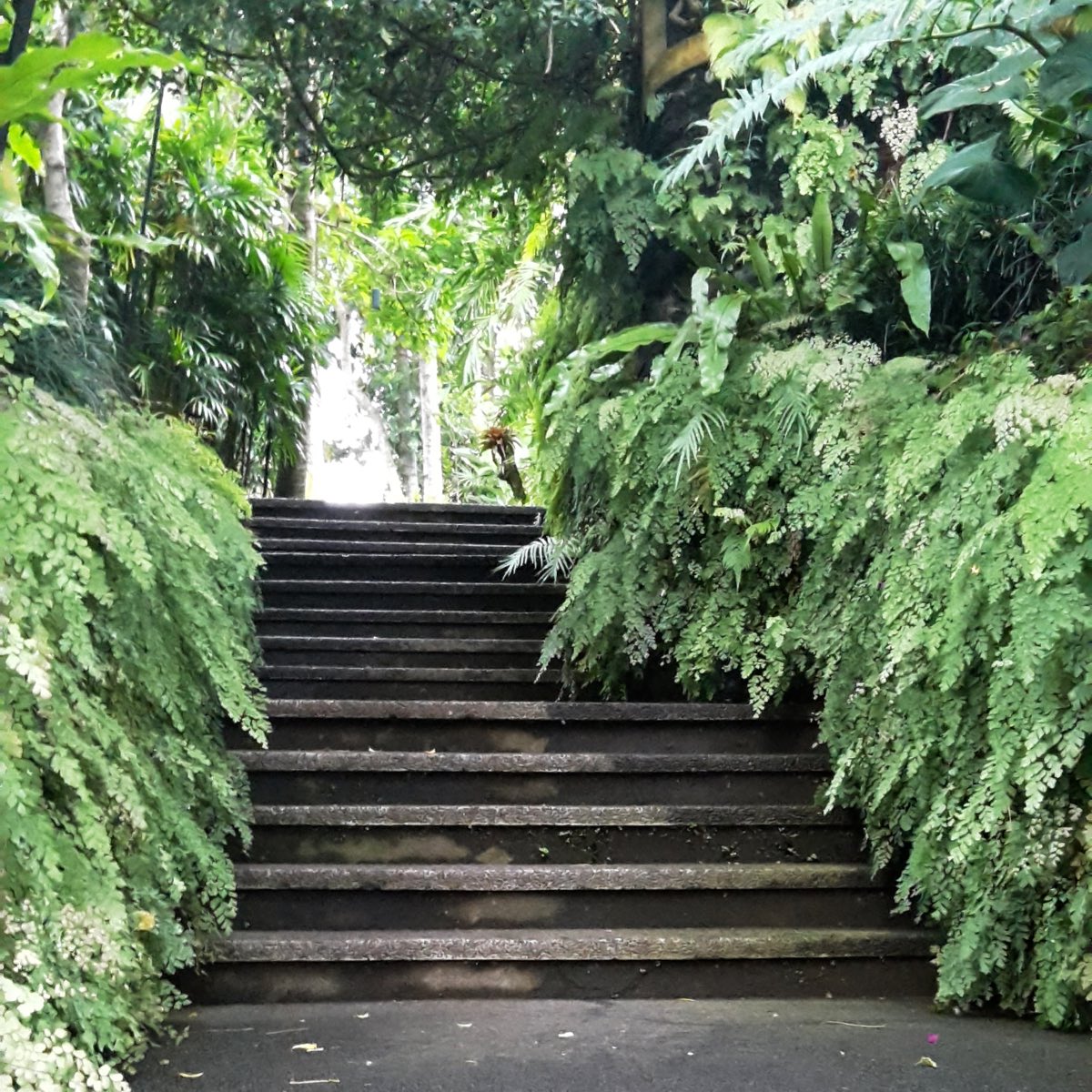 They really go all out on making this place beautiful. This stairwell was just outside the entrance to our villa. Maidenhair ferns all over the place!
I took a few photos of fungi and bugs, but I'll spare you today. Will share those another time when I figure out what species they are.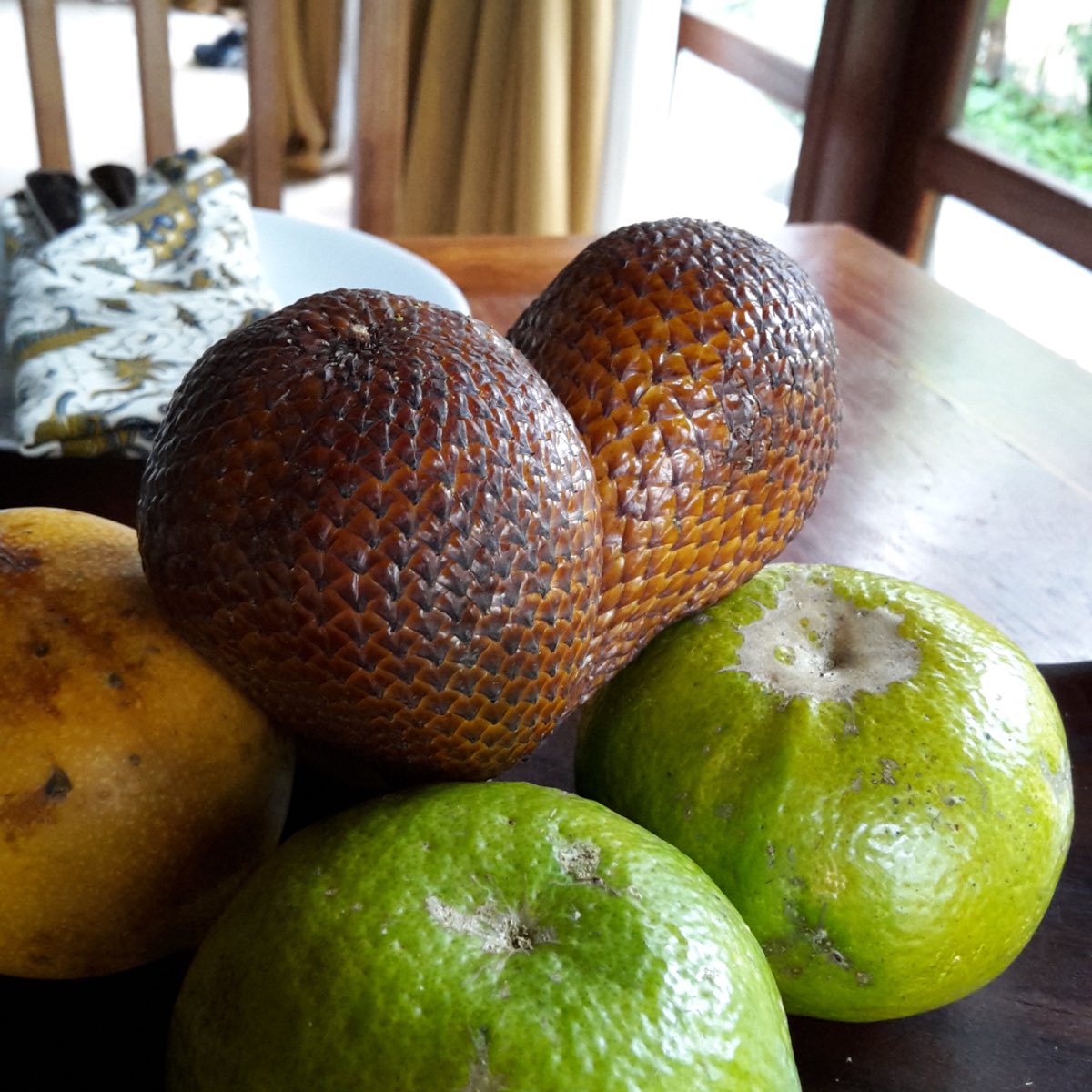 We got to try some local fruit. The yellowskin on the left is a passionfruit, the greenskins I think are tangerines (though my mum called them "green skin orange" when I showed her this photo), and the gnarly ones on top are called "salak", or snake fruit.
Salak flesh looks like a giant garlic segment, but has a tarty-sweet flavour, a potato/apple-like texture and an astringent mouthfeel. So yummy. I wonder if we can get it here in Perth.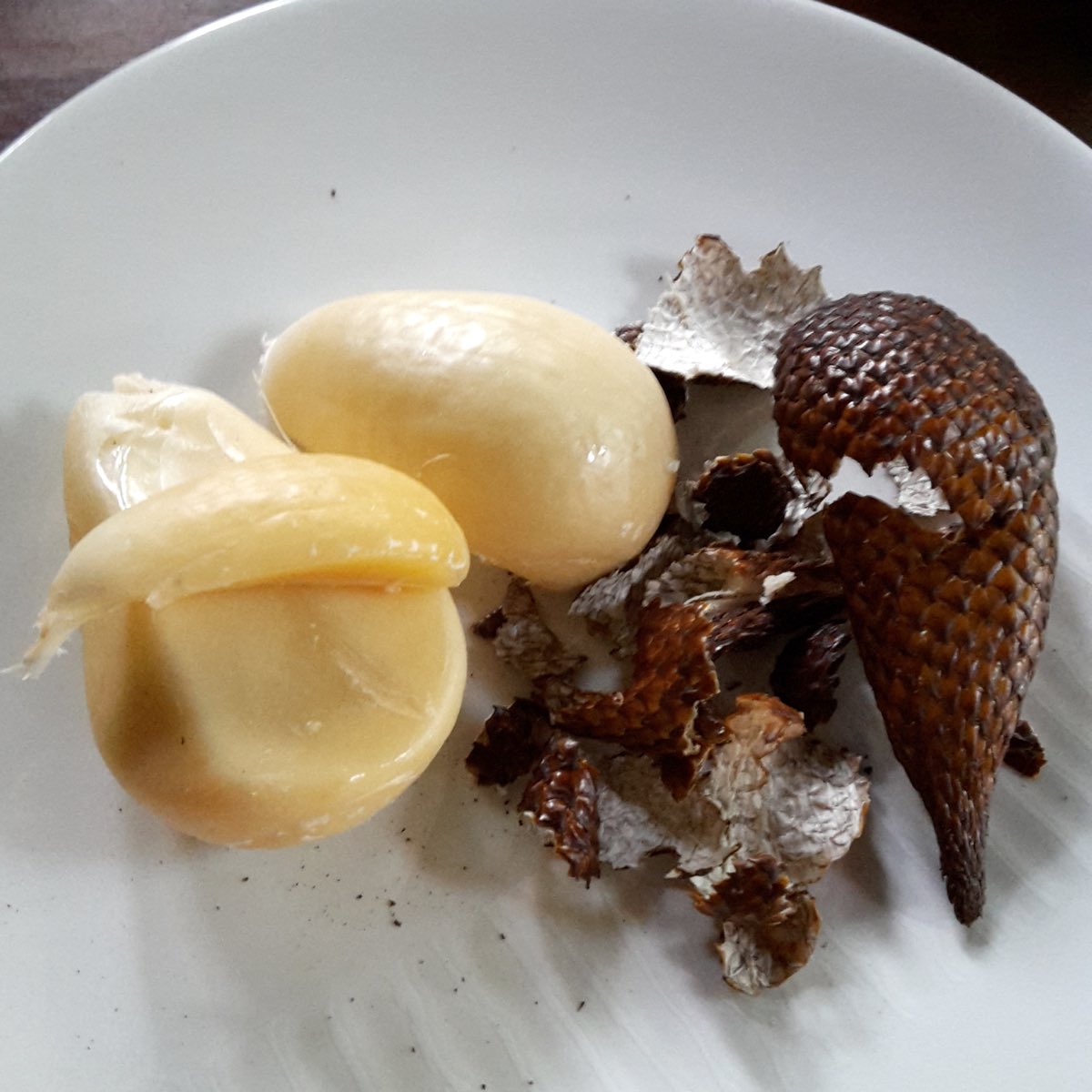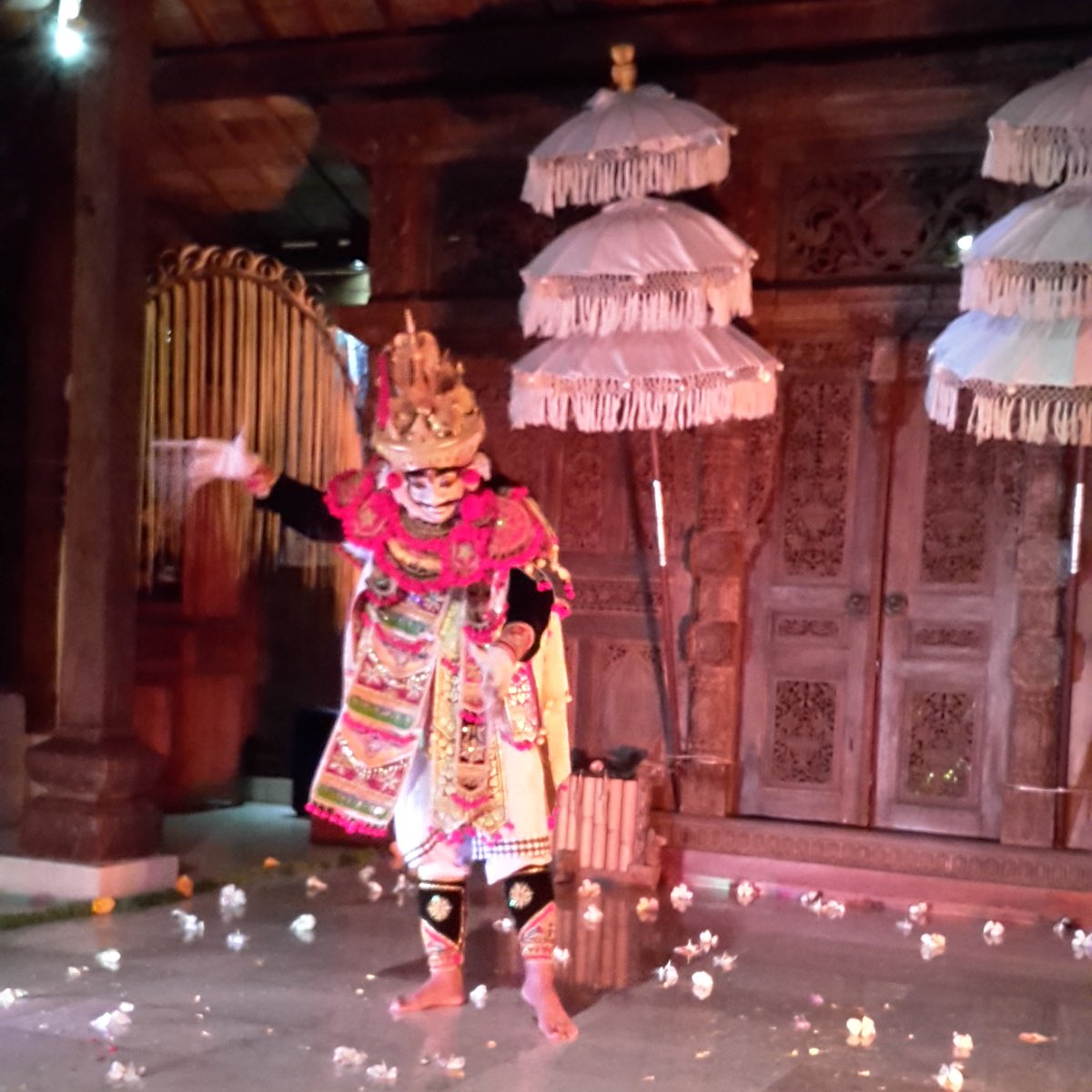 We got to watch a Balinese dance performance as part of a special BBQ event. They do one every month, where you feast on Balinese food and enjoy some culture.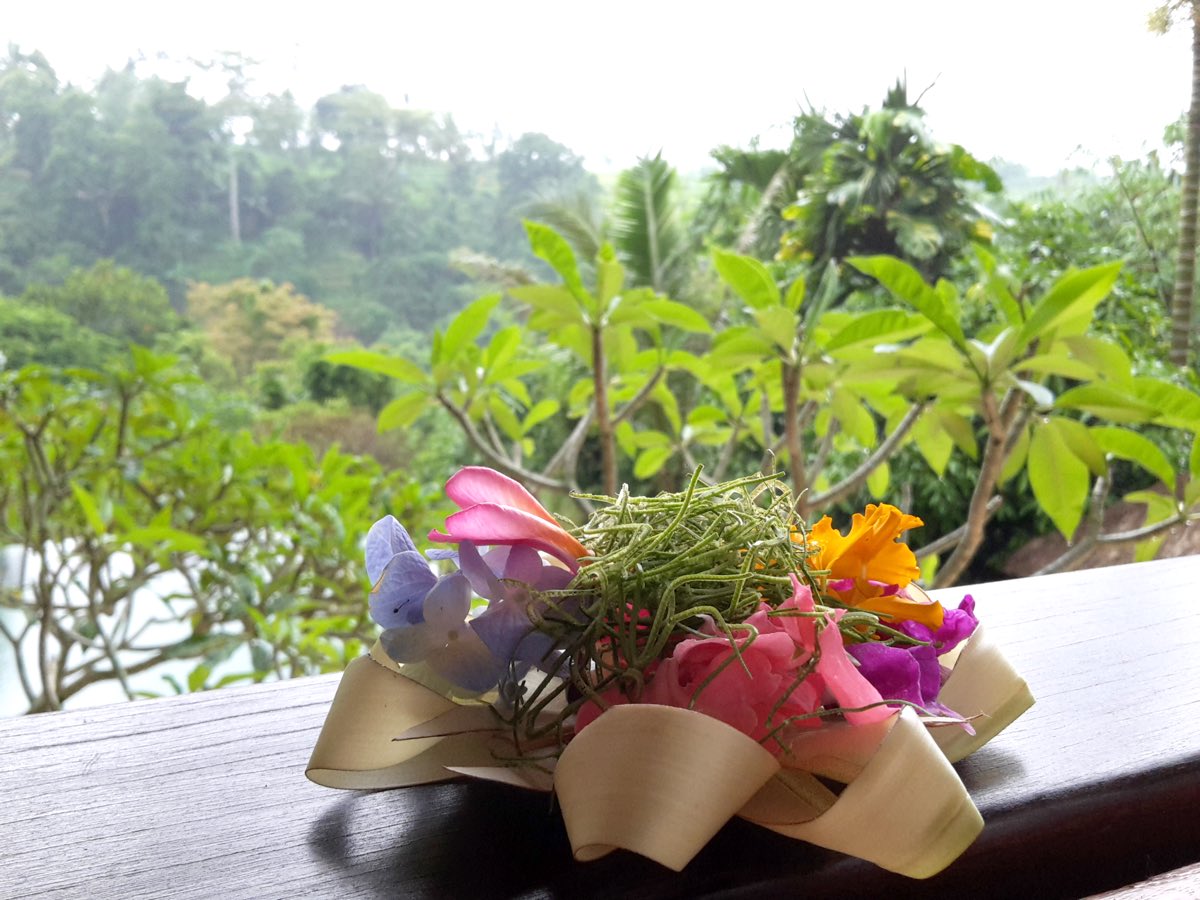 On our last day, we tried the afternoon tea: a daily event involving Balinese kueh (cakes). When we arrived at the teahouse, we saw a few of the staff preparing offerings. Spirituality is embedded in ordinary life. You'll see little offering 'bundles' like these wherever you go, most of the time with a bit of food on top, and maybe some incense too.
The staff kindly taught us how to make them using leaves, grasses and flowers from around the area. It made me wonder what aspects of everyday life at home could be made better by making offerings. Spirits aside, the ritual and reflection is sure to have some psychological and well-being benefit.
We had food for the stomach too. These are the very tasty pieces of kueh we got to eat.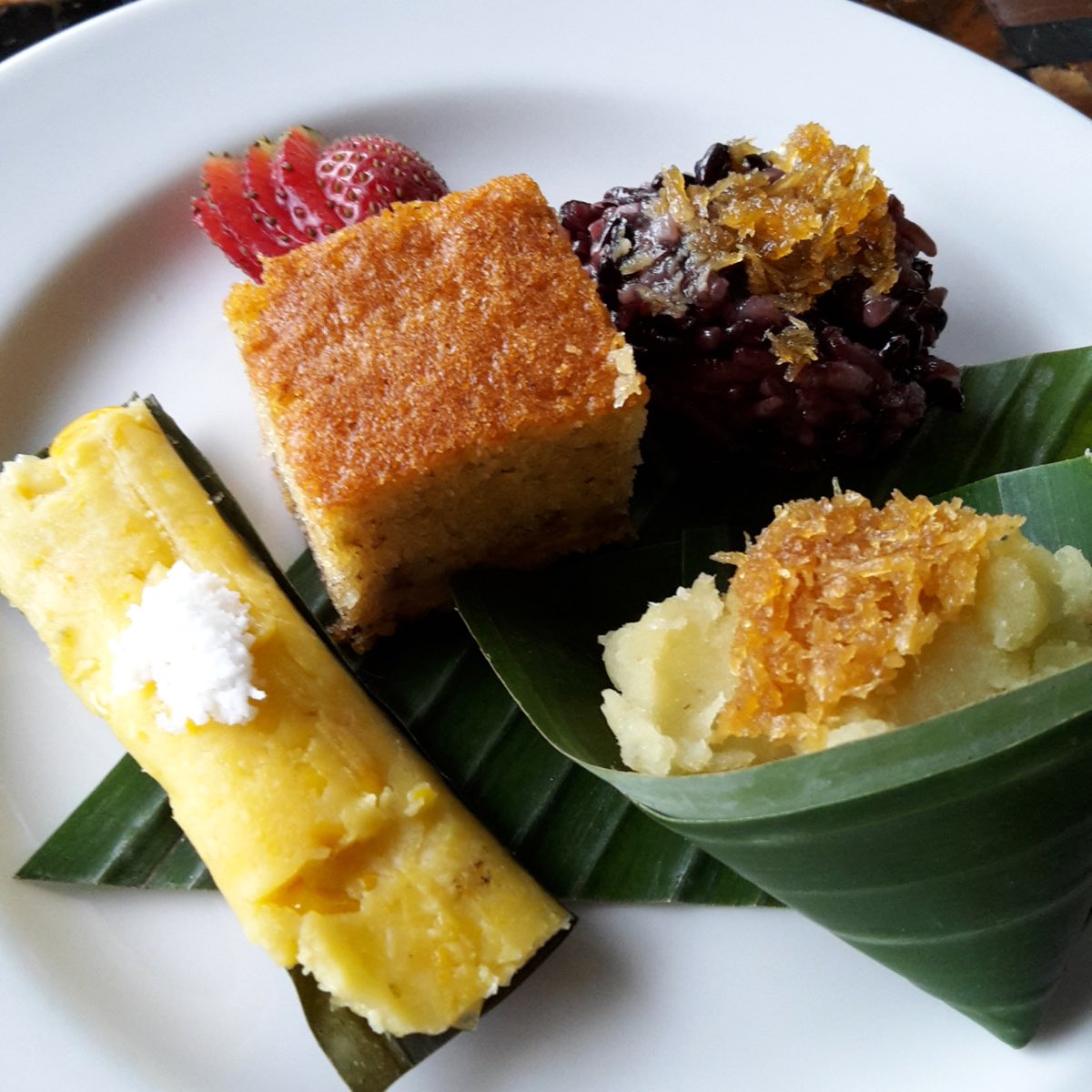 From left to right: sweet corn with rice flour pudding, banana cake, black rice pudding with palm sugar, sweet potato with palm sugar. I much prefer Asian desserts to Western desserts I have these days, just for how tasty they are without being too sweet.
Things I didn't photograph:
The free yoga lesson.
Komaneka at Tanggayuda runs complimentary yoga classes twice a week, plus other times at their sister resorts in other parts of Ubud. I had no idea my body could bend that way. The instructor was a riot, and although our classmates weren't very social (I think everyone was a bit shy), it was nice having all of us beginners attempt things together.
Mm, so good. Before we left, I scoured the net trying in preparation, but found nothing. So, here are some notes for travellers from Perth:
Expect Perth prices. Not quite dayspa massage prices; more like Chinese massage prices. Maybe even slightly more after adding the service fee and sales tax.
Disrobe and lie face down on the table. Keep your undies on, unless they give you disposable dayspa undies.
They'll most likely ask if it's OK to massage your head. This is a cultural thing. Balinese culture considers the head sacred, so the therapists check first.
The face massage is nothing special or exotic. Just someone rubbing your face. I recommend skipping it, so those minutes get used elsewhere.
You will be oily afterwards. It's fine.
The noises.
Being in the jungle, you'll be treated to a bevy of wild sounds. Don't be alarmed. Nothing will attack you unless you bother it first. But expect to hear these noises if you stay at this place: