Nothing like a week off work to start the year right. Hello, 2011, here's what I got up to on my week (and a half) off.
Slept. By this I mean deliberate hardcore sleeping. I think I spent all of the 30th and half of the 31st asleep. It was good. Many strange dreams; my mind feels quite refreshed.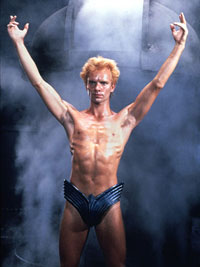 Finished reading Dune – the original novel by Frank Herbert. This is a big deal for me. It was about this time last year that I started reading it and vowed, knowing that I can be a slow, procrastinatey reader, to finish it within the year. Turned the last non-appendix page on the 31st and I'm now free to read all the books I'd abstained from while trying to get through this one. Next on my list are (in no order) Magician by Raymond E. Feist, I Have No Mouth and I Must Scream by Harlan Ellison and Stephen King's On Writing .

Went star-gazing on NYE, though more like iPad-gazing as none of us had a telescope. We sat on rugs and played the Alphabet Game with celestial bodies. The Alphabet Game is where you run through the alphabet, thinking of as many things within the game theme that start with the letter you're up to. 'Satellite' is a great wild card, we found – you can use it for the letters B (broadcast satellite), C (communications satellite), M (mobile satellite) and T (tv satellite). Stupid cheaters.

Played a lot of Borderlands . I don't mind fps games on console; this didn't disappoint. Just as good as PC – maybe even better, as I didn't get a sore shoulder from using the mouse. We're running through The Secret Armory of General Knoxx right now. So damn chaotic. Recommended++.

Made bracelets.

Wrote a screenplay for a (very) short film. It doesn't have a title yet, and I don't really know what I'm doing, but I'm really excited to be trying something new. Wish I knew what questions to ask to get advice on how to make it not suck. Guess that will come in time?

Joined a new football team. Will miss the girls in my old football team, but I feel a lot better going into the new year knowing I won't have to brave winter peak-hour traffic to get to training each week. We're in pre-season now. Time to save up for registration fees and uniforms.

Played the worst game of football in the world on Wednesday 5th. Yeah, you know the day. The really shitty, muggy, threaten-to-thunderstorm day, with air as thick as pea soup – pea & ham soup actually, if you smelled like we did after just the first 5 minutes. Mm, attractive.

Bought a lot of food & drink at the Captain Stirling Hotel in Nedlands. IMO, this is the best pub in Perth. It's not wanky, not pretentious, the menu is good and affordable, they play sports on the TVs and projector screen, there are pool tables and they have a sick-as $7 James Squire's Drydock pints special for the rest of this month. By the way, their pizzas are HUGE for just $19. Say yes to Cap S.

Went lawn bowling – beautiful outdoors, comfortable surrounds, lots of spaces, cheap drinks. This year, I wish for more active events – casual sports, LANs, board games, parlour games.

Ate at Hippo Creek Meat & Wine . I love this chain of restaurants. Hopefully will get to have game meats at Hillarys or Scarborough for the next visit.

Went for a bowl at the cricket nets near Chips' place. Very sore today as a result. Can't for the life of me do a leg spin – any tips?

Scanned for bad sectors on the hard drive that houses all my artwork. Could lose one of my current projects. :( Boo. That's it for now. Peace out.