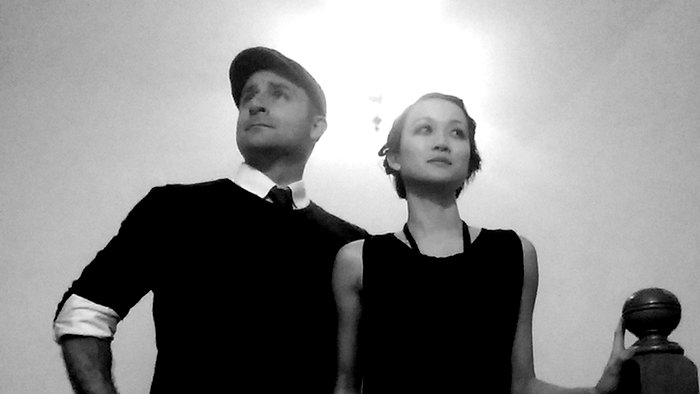 Turns out you can get dolled up for a 1920s Great Gatsby party without spending heaps. As promised, here is my outfit and cost breakdown: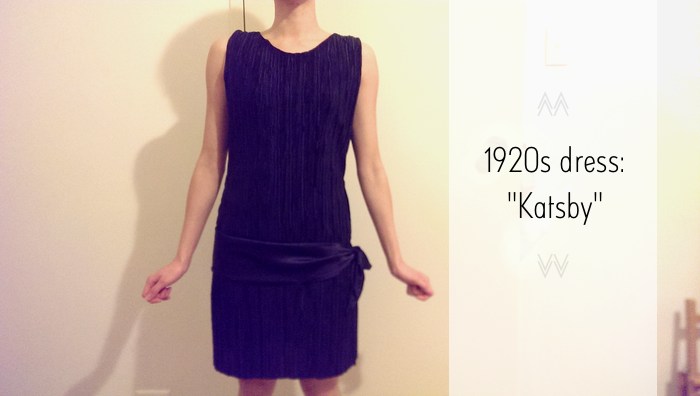 The dress was made at home. Back then, dress cuts were simple; fashion was easily DIYed, and accessible to the middle and working classes. My hem work was hokey, but the garment stayed together for the night and I brought home a compliment or two.
$35 on dress fabric
12 hours labour, spread over 5 days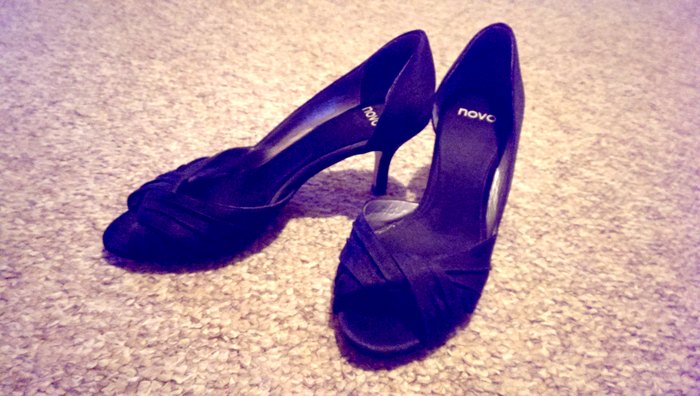 The shoes were old faithfuls. Mary Jane heels would have been a closer style match, and sometimes you'll find them at op shops, but rarely for size 5 feet. Try your luck if you're a size 7 and above.
The stockings were plain black pull-up lace-tops, bought for a party years ago and packed in a sock box since.
$0, shoes already owned
$0, never throw out good stockings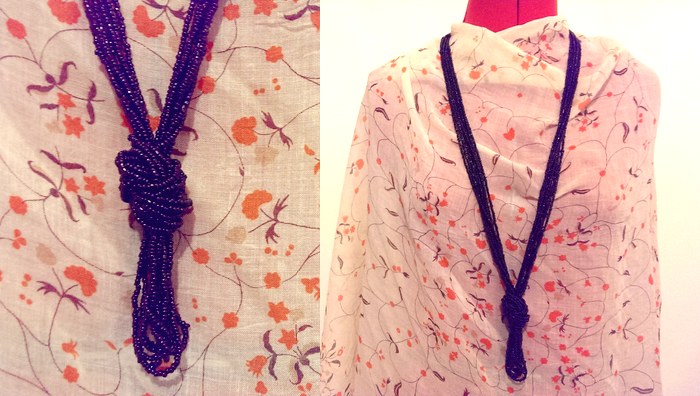 The jewellery was a multi-strand black seed bead rope with a knot, found at Good Sammy's. A string of pearls would have given a nice contrast, but the dress fabric was so busy with texture, I didn't mind going minimal on accessories.
$12 on secondhand necklace
15 minutes in an op shop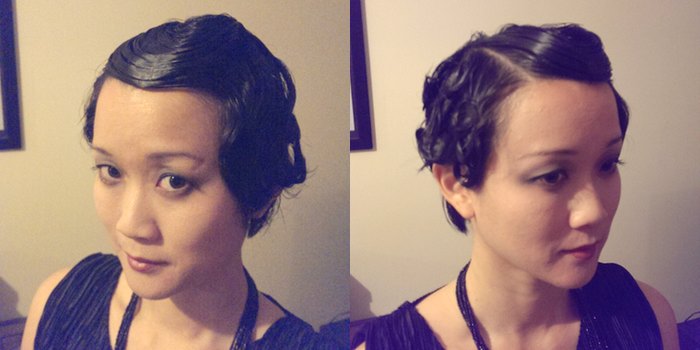 The hair was a symphony of finger waves and pin curls, deftly crafted by Abbey and Libby at Rebecca Oates. All it cost was the complimentary voucher from my last haircut. It was a lucky coincidence for me, but a great lesson in timing.
If your salon gives you treats after a visit, schedule your normal appointment within a week of the party, then cash in those treats on the day. Otherwise, ask what styling they can do on a wash & blowdry service.
I also learned that finger waves and pin curls are among the first things a stylist learns in hair school. When it comes to salons who charge based on a stylist's seniority, you may get awesome enough hair value from a junior or middleweight.
$0, be smart (or lucky) with your vouchers
30 minutes in the salon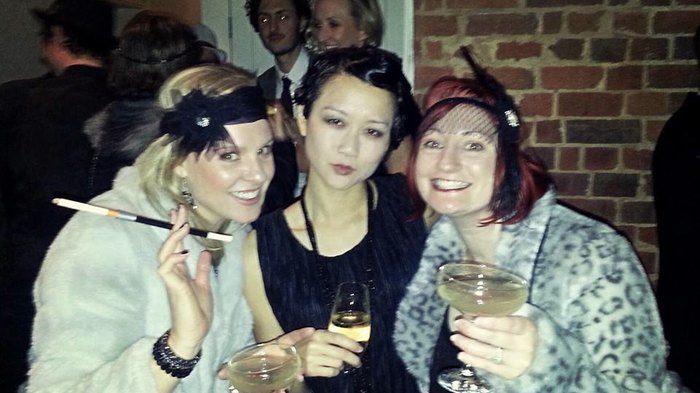 The makeup was... passable. I'm not skilled here, but you get away with so much in the dark! I used a BB cream, brow pencil, lip liner and lip balm, already owned. Purchased new were a Maybelline Master Smoky (not masterful) and a Great Lash mascara (pretty great).
$20 on new things
10 minutes in the bathroom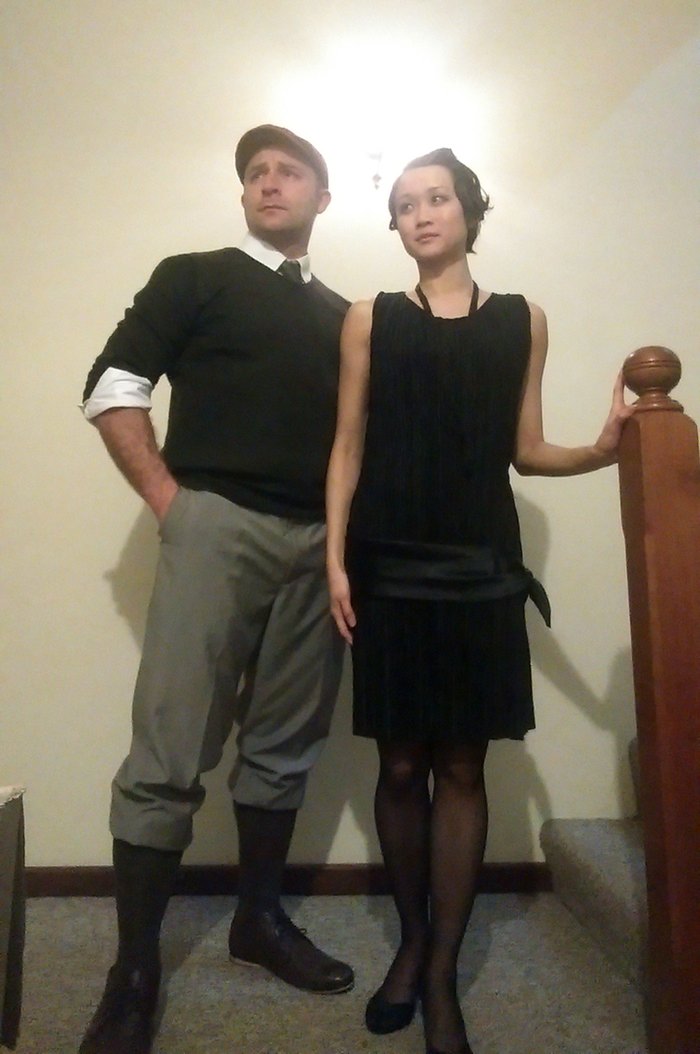 Which brings us to a grand total of $67 for a whole 1920s outfit. w00t!
The gentleman had it better: $33. He already owned the hat (corporate freebie), jumper and shoes. Purchased were:
Shirt - $5
Pants - $5
Tie - $3
Socks - $20
I won't lie - this takes effort. I consider this too much effort for just a party, but as DIY experience and skills training, it was worth having a learning opportunity that integrates with normal life.
Key takeaways for me, and for fellow budgos, wombles, opportunists and crafters:
Get to know the theme, as there's probably something easy you can get away with.
Think this way: reuse > make > buy secondhand > buy new.
Learn to sew - it opens up a world of options.
Hit op shops where you can, but remember vintage fashion is in - serious shoppers, fashionistas and vintage boutiques are likely to have found the really good stuff already.
Get clever with time planning, free gifts, and vouchers.
Of course, if it's down to numbers, you can do even better by borrowing something. :)