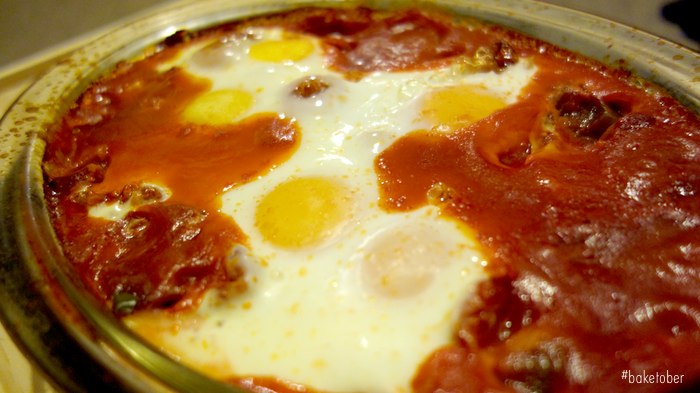 We usually make shakshouka in a fry pan, then eat with a greasy forehead. This time, since it's #baketober, we made it in the oven.
Cooking patterns here again - similar to the egg bakies, except instead of a solid tart, you eat this like a stew.
Bake at: 180°C
Bake in: Ceramic oven dish - or whatever you don't mind eating out of.
Bake how: Add bite-sized pieces of green capsicum and chorizo. Cover with enough tomato puree to just cover. Dust a layer of cumin and stir through. Crack eggs on top.
Bake for: 15 - 25 mins, depending on your oven and how you like your eggs.
With the chorizo, pick the dry-cured type that doesn't need to be cooked for ages. Feel free to add salty, sour cheese (white cheese, feta, etc.) before the egg, or at the end, once baking is done. We added shredded tasty cheese - not very authentic but it's the best we had.
The awesome flavour comes from the tomato and cumin, but you can add other spices for variety - paprika, mustard and the like. I'd consider coriander and lemon for a lighter flavour over summer, if we bake much at all with the summers here.
This was yummy. Between @niaalist and me, we ate one and a half chorizos, a whole capsicum, most of a bottle of passata and 5 eggs. While dessert was tea and a nibble of brownie. :D This is a well-fed month!